The 100kg/h semi-automatic potato chips manufacturing line covers full processing steps from potato washing and peeling to the packaging of potato chips.
The 100kg/h processing line has the features of full processing flow, flexibility in production, low investment, and quick return, suitable for small or medium potato chips factories or new potato chips manufacturers.
As a potato chips machinery manufacturer, we have rich experience in designing and manufacturing professional potato chips production lines and offer various solutions for production.
Potato chips manufacturing line advantages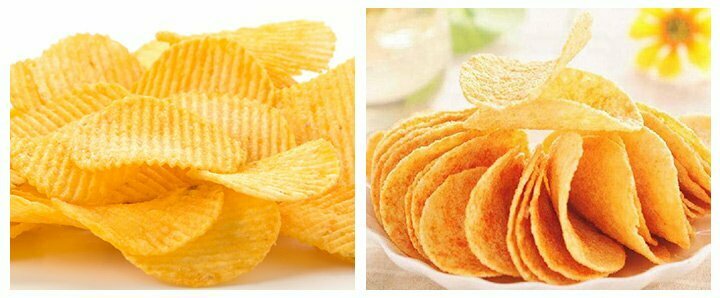 | | |
| --- | --- |
| 1. Efficient production | The automatic potato chip machines can increase productivity and save labor. |
| 2. High-quality product | The final potato chips are hygienic, with a uniform appearance and attractive flavor, which can meet market demand. |
| 3. Crinkle-cut potato chips for option | The potato chips can be sliced into smooth or crinkle shapes by adjusting the cutter mold. |
| 4. Food safety | Made of food-grade stainless steel, the potato chips making machines are hygienic, meeting food safety standards. |
| 5. Easy operation | The machine structures are reasonable and it is easy to learn the operation. |
| 6. Long service life | The machine materials are high-quality steel, which is anti-rust and durable. |
Taizy potato chips line features
Processing steps of potato chips manufacturing line
Washing and peeling: to remove impurities and the potato skins
Cutting into slices: to get thin potato slices (smooth or crinkle shapes). The thickness is adjustable.
Blanching: remove the starch in the potatoes to avoid color change.
Water removal: to get rid of extra water on the potato slices.
Frying: to obtain fried potato chips.
Oil drying: remove excessive oil on the potato chips for a better taste.
Flavoring: add seasoning to potato chips.
Packaging: to pack the chips for storage and selling.
Semi-automatic potato chips making machine video
Main parameters of crispy potato chips manufacturing line
Order
Item name
Main parameter
1
Brush-type potato washing & peeling machine
Dimension: 2500*850*900mm
Length of roller: 1500mm
Power: 2.95kw
2
Potato chips slicer machine
Dimension:600*500*900mm
Size:2-9mm
Power: 1.5kw
3
Blanching machine
Dimension:3000*1150*1250mm
Belt width: 800mm
Power:60kw
4
Water drying machine
size:1000*500*700mm
weight:200kg
power:1.5kw
5
Potato chips frying machine
Dimension: 3000*1150*1550mm
Belt width: 800mm
Power: 60kw
6
Oil drying machine
size: 1000*500*700mm
weight: 200kg
power: 1.5kw
7
Flavoring machine
Dimension: 1700*800*1550mm
Power: 1.1kw
8
Potato chips packaging machine
Maximum weight: 1000g
Single weighing range: 10-1000g
Weighing speed:60 times/min
Technical data of potato chips manufacturing line
Notes for 100kg/h potato chips line
Compared with the 50kg/h potato chip line, the potato chip processing line has a larger capacity. This is because the machine models used in this production line are different. For example, the potato chip frying machine of this production line is a double-basket frying machine, and the two frying chambers of the machine can work alternately or continuously, so the output is larger.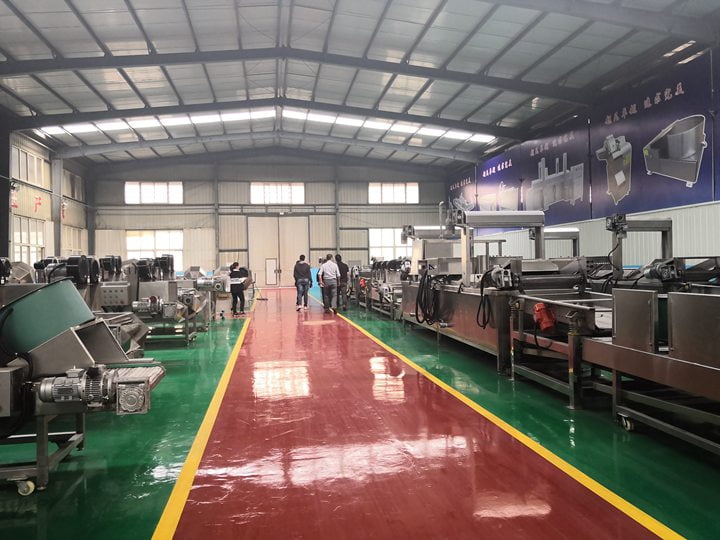 Installed potato chips manufacturing lines at home and abroad
The semi-automatic potato chip processing line can be designed as automatic and semi-automatic processing lines. Its specific equipment configuration and factory installation method are determined according to the actual production needs of customers.
At present, we have installed potato chip processing equipment with different outputs in many different cities at home and abroad, such as Guilin City in Guangxi Province in China, Hefei City in Anhui Province in China, Chiang Mai in Thailand, Manila in the Philippines, Mombasa in Kenya, Saudi Arabia Daman et al.