The frozen french fries making machine is used to process batches of fresh potatoes into half-fried frozen french fries. The fully automatic French fries production line mainly involves the processes of potato cleaning and peeling, potato cutting, potato blanching, dehydration, frying, degreasing, quick freezing, and packaging with the capacity of reaching up to 2000kg/h. This is to introduce the 200kg model, suitable for medium-scale processing units. The automatic frozen french fries processing plant has the advantages of low energy consumption, multiple functions, high return, and convenient use and maintenance, suitable for small and medium french fries processing factories, workshops, restaurants, canteens, etc.
Frozen french fries making machine overview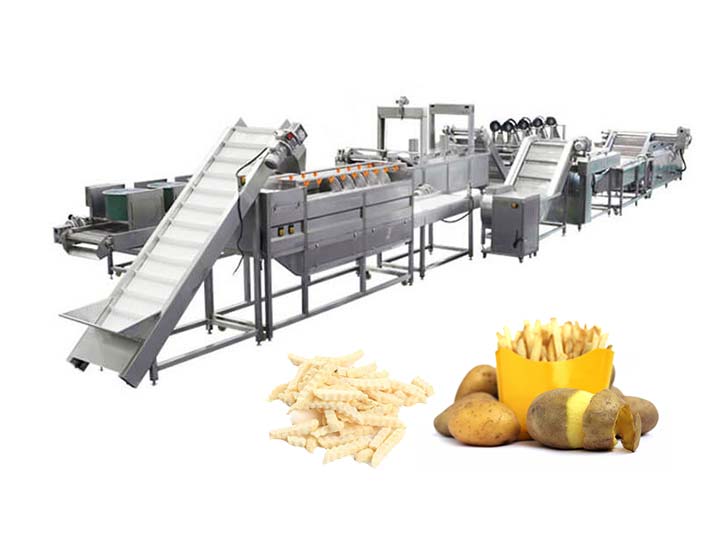 Frozen french fries production process:
Lifting and feeding → cleaning and peeling → picking and sorting → lifting and feeding → slicing (strips) → rinsing → blanching and color protection → air-cooled dehydration → frying → air-cooled deoiling → quick freezing → conveying → packaging
Final products: Frozen french fries, potato chips, finger chips, sweet potato chips, fried cassava chips, etc.
Outputs: 100kg/h, 200kg/h, …, 2000kg/h.
The small and medium output is about 50-300kg/h, and the large output reaches about 300-2000kg/h
Customized services: available (machine material, capacity, machine size, voltage, heating method, etc.)
Working video of french fries manufacturing plant
3D stimulation video
Live video recording of French fries processing plant
Introduction to main machines of automatic french fries processing line
The following items are the main parts of the frozen french fries making machine.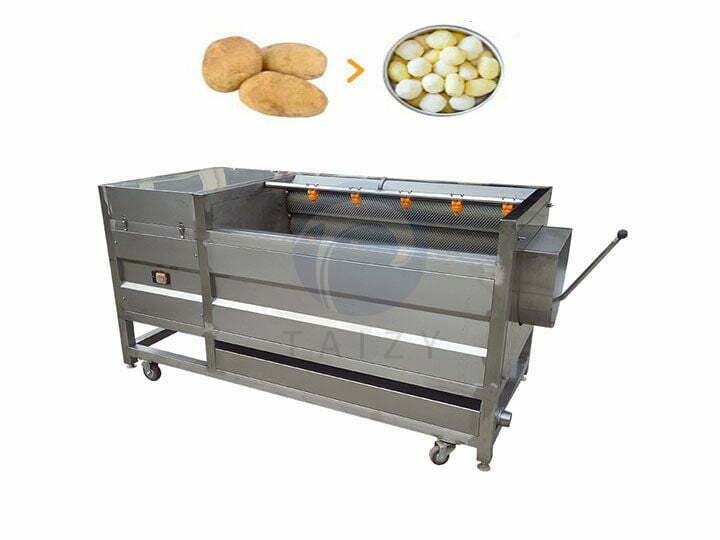 Potato cleaning and washing machine
The brush-type potato washing and peeling machine is adopted, which can complete the work of cleaning and peeling at the same time. High efficiency and no damage to products.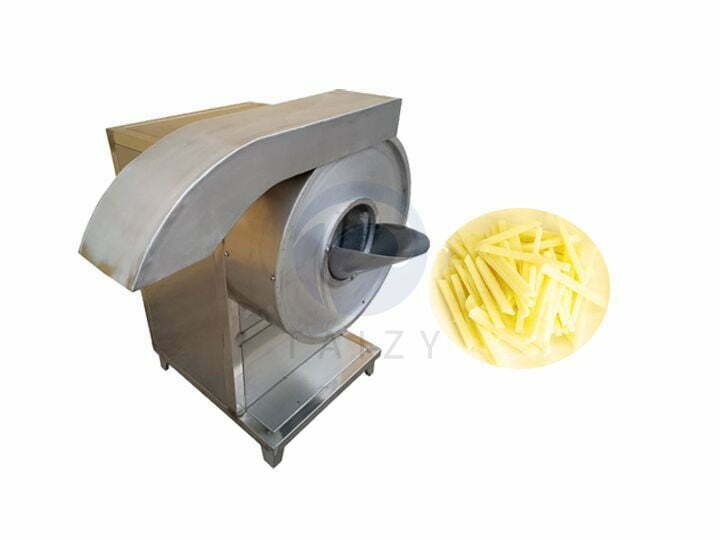 It is suitable for making potato slices, or potato strips. The sizes of the slices and strips can be adjusted. Generally, it reaches from 6*6mm to 15*15mm.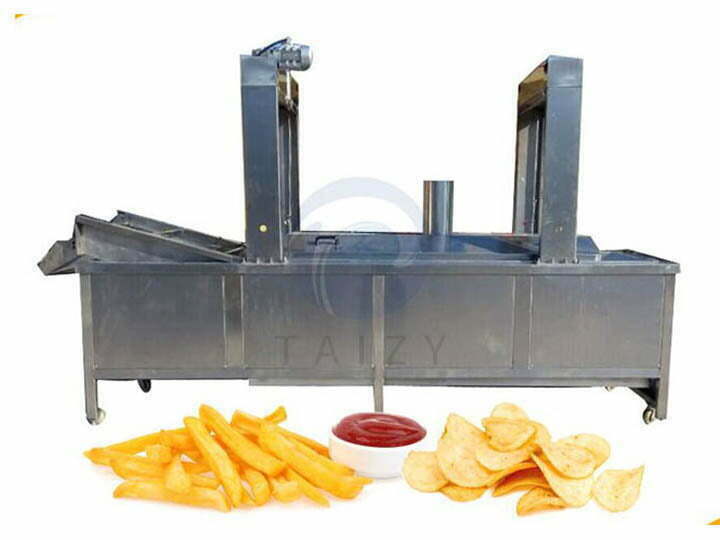 It blanches the potato strips to remove excess starch and maintain the color of the potatoes. The blanching machine can also be used as a french fries continuous frying machine. The oil temperature is precisely controlled, thus ensuring the quality and taste of the fries. The fryer can fry continuously and work automatically.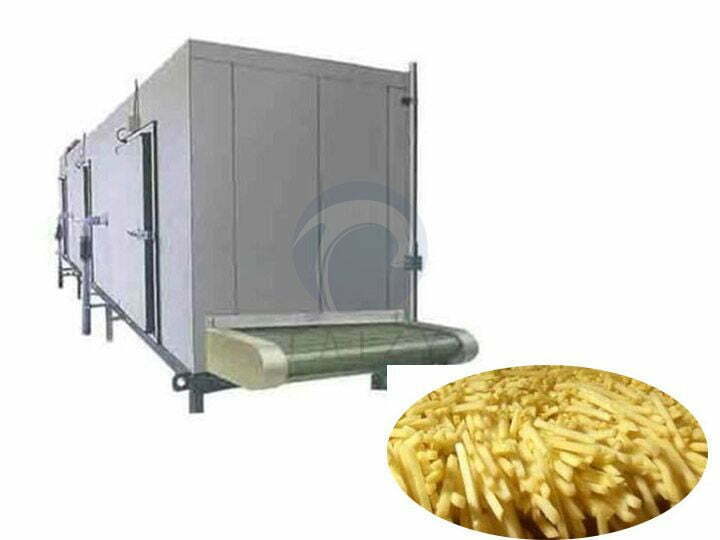 Continuous french fries freezing machine
A tunnel quick-freezing machine is specially used for freezing a large number of products in a very short period of time. The french fries flash freezing machine ensures that the product will not stick to itself and that there is no ice. The french fries maintain their quality and keep freshness and taste.
Frozen french fries making machine technical parameter
Order
Machine name
Model of 200kg/h
1
Hoist
Size: 2500*850*1400mm
Length of roller: 600mm
Power: 0.75kw
Material:304SS
2
Potato Washing And Peeling Machine
Size: 2800*850*900 mm
Length of roller: 1800mm
Power: 4kw
Material:304SS
3
Manual picking belt
Size: 3000*850*800mm
Length of roller: 600mm
Power: 0.75kw
Material:304SS
4
French Fries Cutting Machine
Size: 850 * 850 * 1000 mm
Power: 0.75kw
Cutting strip size: 3-8mm
Material:304SS
5
Hoist
Size: 2500*1050*1400mm
Length of roller: 800mm
Power: 0.75kw
Material:304SS
6
Potato Blanching Machine
Size: 4000*1150*1250mm
Mesh belt width: 800mm
Electric heating power: 90kw
Material:304SS
7
Water Drying Machine
size:4000*1100*1100mm
Mesh belt wideth:800mm
power:5.5kw
8
French Fries Frying Machine
Size:4000*1150*1550mm
Mesh belt width: 800mm
Electric heating power: 90 kw
Material:304SS
9
Oil Dryer Machine
size:1200*700*750mm
weight:420kg
power:2.2kw
10
Air cooling machine
Power:5.5KW, 380V/50Hz
Number of fans: 4
Size:4000x1100x1100mm
11
Quick Freezer
Length: 9100mm
Freezing center temperature: – 18 °
Material: 304SS
12
Automatic packing machine
Maximum weight: 1000g
Single weighing range: 10-1000g
Weighing speed: 60 times/min
The technical data of frozen french fries making machine contains the specifications of major machines and auxiliary equipment required. For special needs, we can provide customers with tailored services. Welcome to send us your specific requirement for professional advice whether you are a first-time entrepreneur or french fries producer of different scales.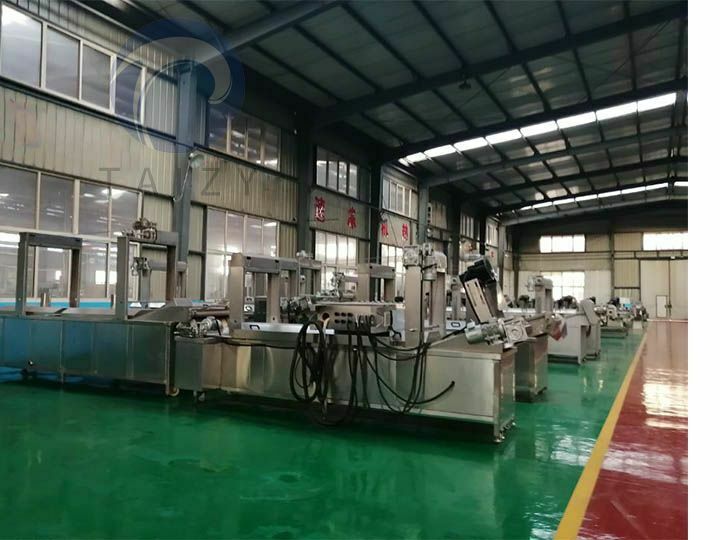 Taizy Machinery is a professional food machinery processing and production enterprise integrating scientific research, production, and sales, and has a strong development, design, and manufacturing capabilities. The machine adopts advanced production technology and components at home and abroad, with novel structure, stable performance, and quality assurance. In addition, the comprehensive after-sales service has won the trust and support of our global customers.