Small automatic potato chips making line is a semi-automatic potato chip production line with a small output of 50kg/h to 300kg/h. With moderate investment and a comparatively small footprint, the small-scale automatic potato chip making line is suitable equipment for small potato chip processing factories or new startups. As an experienced food machinery manufacturer, Taizy Machinery has designed and developed a variety of potato chips production lines and french fries processing machinery, which has been sold to a large number of countries.
Machine introduction of small automatic potato chips making line
Potato cleaning and peeling machine: after potatoes are poured into the hopper, they are cleaned and peeled synchronously.

Potato chip slicer: put the peeled potatoes into the inlet continuously, and the potato chips will be cut out automatically.

Blanching machine: to remove starch from potato chips by hot water.

Water dryer machine: to dry the excessive water on the surface of chips.

Fryer: to deep fry potato chips.

Oil dryer machine: dry the oil on the surface of fried potato chips to improve the taste.

Seasoning line: to flavor the fried potato chips.

Packaging machine: package potato chips in certain volume for better storage.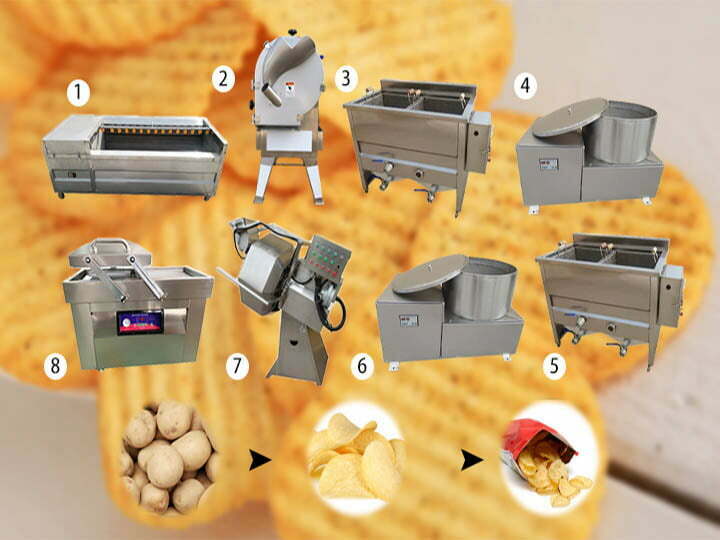 Potato chips making line highlights
Flexible production
Space-saving
Labor-saving and energy-saving
Moderate cost and fast benefit return
Hygienic and durable
Variety of final products (smooth surface or crinkle-cut shapes, different thickness and flavors)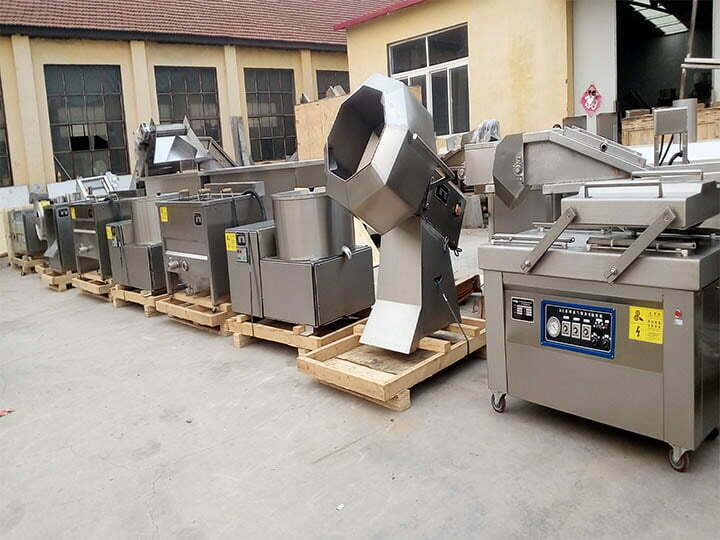 Specification
Machine order
Machine name
Parameter
1
Potato washing peeling machine
Dimension:2200*850*900mm
Length of roller: 1200mm
Power:2.95kw
2
Potato Chips Slicing Machine
Dimension: 600*500*900mm
Size:2-9mm
Power: 1.5kw
3
Blanching machine
Dimension:2500*950*1250mm
Belt width: 600mm
Power:48kw
4
Water dryer machine
size:1000*500*700mm
weight:200kg
power:1.5kw
5
Potato Chips Fryer machine
Dimension:2500*1200*1550mm
Belt width: 600mm
Power: 48kw
6
Oil dryer machine
size: 1000*500*700mm
weight: 200kg
power: 1.5kw
7
Potato chips seasoning machine
Dimension: 1400*800*1550mm
Power: 0.75kw
8
Potato chips packing machine
Maximum weight: 1000g
Single weighing range: 10-1000g
Weighing speed:60 times/min
Main specification