French fries are a very popular fast food and leisure food in a large number of countries. Quick-frozen french fries are common potato products processed by peeling, cutting, blanching, drying, quick-frying, oil removing, and quick-freezing. Frozen half-fried french fries are often delivered to fast-food restaurants to be fried and ready to eat. The fully automatic french fries machine has the advantages of automatic, specialized, and large production, reasonable investment, low energy consumption, multiple functions, simple operation, convenient use, maintenance, etc. The complete frozen french fries production line consists of cleaning and peeling, cutting, blanching, dehydration, frying, degreasing, freezing, packaging, and auxiliary equipment. The automatic french fries making machine is suitable for the production of medium and large-scale french fries processing enterprises.
Frozen French fries manufacturing process


1. Wash and peel: Clean the silt on the surface of the potatoes and remove the skin of the potatoes
2. Cut into strips: Cut the potatoes into strips with a size of about 3mm-12mm.
3. Blanch: Blanch the cut fries to protect the color, otherwise the potatoes will be oxidized and turn brown
4. Dehydrate: remove excess water before frying to facilitate frying and improve the taste.
5. Fry: The continuous frying machine in the fully automatic french fries machine automatically controls the temperature for frying, and the temperature is 160-180 degrees Celsius. It usually takes 40-60 seconds to fry.
6. Deoil: The centrifugal deoiling machine deoils the freshly fried French fries, which overcomes the defects of high oil content and greasy taste of the French fries.
7. Quickly freeze: French fries need to be frozen in the freezer at minus 40 degrees Celsius for 15 to 45 minutes. French fries are frozen and shaped for easy storage and subsequent sale and processing.
8. Automatically pack: The automatic packing machine can quickly pack the french fries according to the set weight.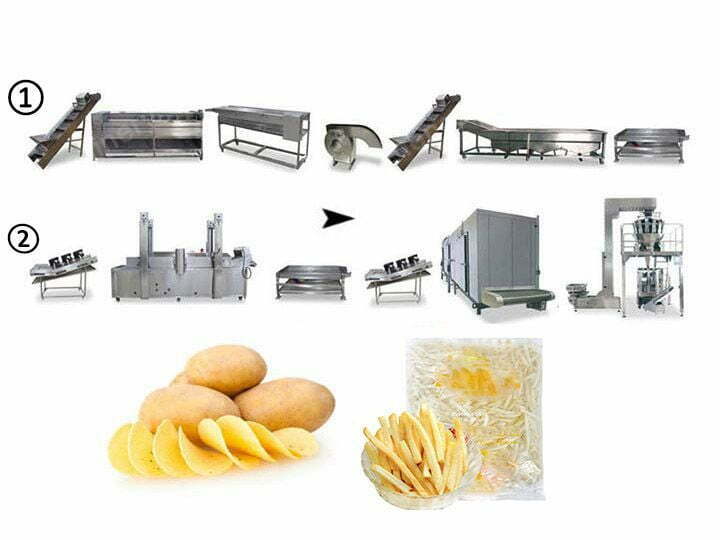 Video of fully automated french fries manufacturing line
Market advantages of fully automatic french fries machine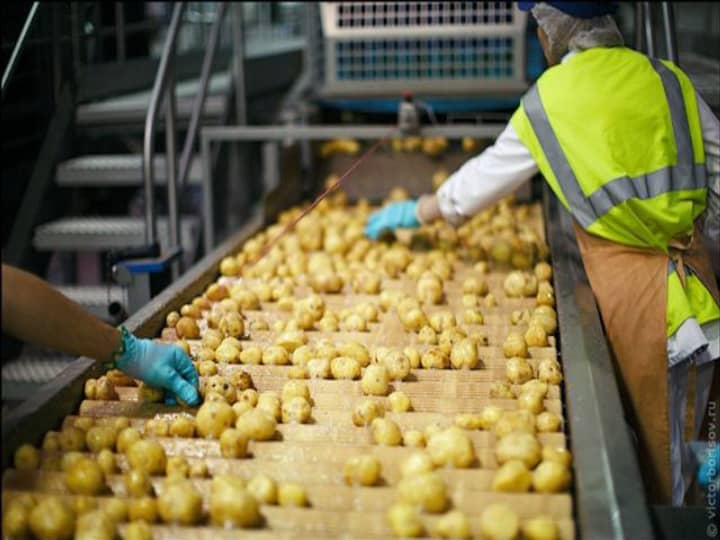 Machine material: the machines in the fully automatic frozen french fries processing line are made of 304 stainless steel. It meets food safety standards.
Superior performance: the automatic french fries making machine is easy to operate, really realize the automatic and stable operation, and high efficiency.
Easy to operate and maintain, and labor saving. The operation and maintenance is convenient. We offer all-around after-sales service.
Technical support. For early-stage entrepreneurs, we can provide free production formula and comprehensive technical support to our customers.
Specification of 500kg/h automatic french fries production line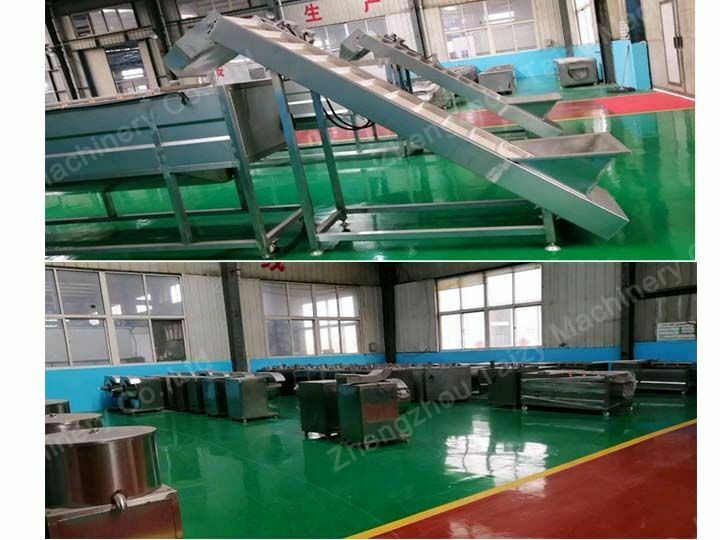 Machine name
Machine functions
Model: 500kg/h
Hoist
Automatic lifting and feeding, convenient, efficient, and fast, saving manpower
Size: 2500*1050*1400mm
Length of roller: 800mm
Power: 0.75kw
Material:304SS
Potato Washing And Peeling Machine
Fully automatic potato cleaning and peeling machine, high efficiency and energy saving, saving time and effort
Size: 3600*850*900 mm
Length of roller: 2600mm
Power: 5.5kw
Material:304SS
Manual picking belt
Remove the bad pits and scars of the potatoes to improve the quality
Size: 4000*1050*800mm
Length of roller: 800mm
Power: 1.1kw
Material:304SS
French Fries Cutter Machine
Efficient strip cutting with adjustable size
Size: 850 * 850 * 1000 mm
Power: 0.75kw
Cutting strip size: 3-8mm
Material:304SS
Hoist
Lift the potato strips to the potato blanching machine
Size: 2500*1050*1400mm
Length of roller: 800mm
Power: 0.75kw
Material:304SS
Potato Blanching Machine
Remove the starch on the surface of potato strips and inhibit the activity of active enzymes
Size: 8000*1350*1250mm
Mesh belt width: 1000mm
Electric heating power: 240 kw
Material:304SS
Water Drying Machine
Remove the scraps that are too small and vibrate to remove excessive water
size:1000*1200*1100mm
Mesh belt wideth:1000mm
weight:420kg
power:21kw
French Fries Frying Machine
Continuously fry the french fries under precise temperate control and time control
Size:10000*1450*1550mm
Mesh belt width: 1000mm
Electric heating power: 320 kw
Material:304SS
Oil Dryer Machine
Vibrate to remove excessive oil to improve the taste and convey the material to next machine
size:1200*700*750mm
weight:420kg
power:2.2kw
Air drying machine
Blow off extra oil on the surface and cool the fries well enough to go into the quick freezer
Power:7.5KW,380V/50Hz
Number of fans: 10
Size:3500x1200x1400mm
Quick Freezer
French fries are frozen for about 15-45 minutes for easy storage and transportation
Length: 15000mm
Freezing center temperature: – 18 °
Material: 304SS
Automatic packing machine
Fully automatic packaging of frozen fries according to customer requirements
Maximum weight: 1000g
Single weighing range: 10-1000g
Weighing speed:60times/min
The above is the general technical data of the 500kg/h fully automatic french fries machine. We also offer french fries machines of other capacities ranging from 50-2000kg/h. If special needs are needed, customized services can be provided.