Banana chips fryer machine is designed to produce fried banana/plantain chips, a popular snack in many countries. Crisp fried banana chips have a fine taste, suitable for all ages. Processing bananas that are not easy to store or transport into dried bananas can not only reduce economic losses caused by decay but also adjust the market and increase income. The plantain chips frying machine is an important machine in the banana chips production line and it is suitable for small, medium, and large fried food processing enterprises.
Banana chips fryer machine highlights
The main body of the banana chips fryer machine is made of SUS304 stainless steel;
Double mesh belt conveyor to avoid food floating and adjustable mesh belt speed;
Automatic lifting system: convenient for workers to clean the inside the machine;
Controllable temperature and a multi-stage heating mechanism to ensure the food frying quality;
Scraper technology: food scraps can be automatically submerged in the water to keep oil clean. The banana chip frying machine can also be equipped with an oil filter machine.
The high degree of automation: automatic lifting system, conveying and discharge system, heating system, oil cycling system, oil smoke exhaust system, electric control system, etc;
Heating methods: gas or electricity.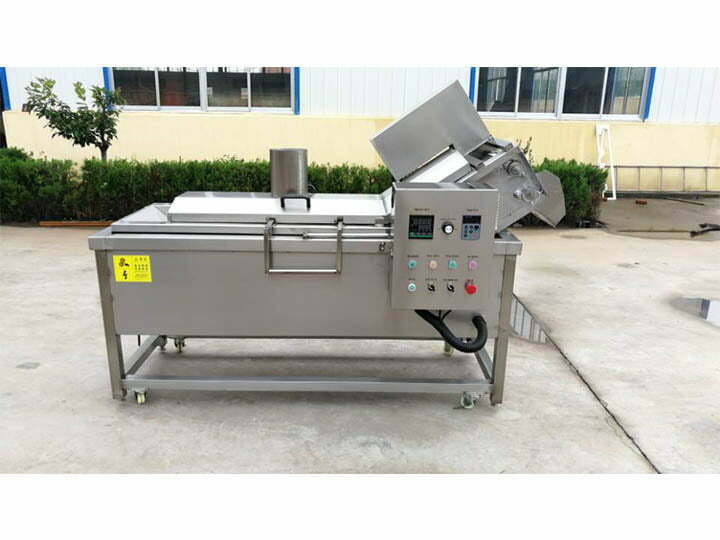 Specifications of plantain chips frying machine
| | | | | | | | |
| --- | --- | --- | --- | --- | --- | --- | --- |
| Model | Rated voltage (V) | Temperature (℃) | Oil volume (L) | Mesh belt width (mm) | Dimension(mm) | Rated power(kw) | Capacity(kg/h) |
| TZ-3500 | 380 | 0-300 | 650 | 800 | 3500x1200x2400 | 60 | 100-500 |
| TZ-6000 | 380 | 0-300 | 1000 | 800 | 6000x1200x2400 | 160 | 200-1000 |
| TZ-8000 | 380 | 0-300 | 1500 | 800 | 8000x1200x2400 | 200 | 1200-1500 |
Parameter
How to use continuous banana chips fryer?
Before using the Banana chips fryer machine, add oil first to avoid damaging the electric heating tube. The heating tube must be immersed in the medium to work.
After use for a period of time, oil residue on the surface of the heating pipe shall be cleaned in time. And regularly clean up the residue on the surface of the fryer in time to prevent fire risk.
In summer, the water of the oil-water mixed fryer should be changed once a day, and in winter, it can be changed regularly according to the water quality to protect the quality of the oil.
Regularly check the performance and sensitivity of photoelectric switch.
Adjust the temperature according to the materials characteristics. Automatic heating control can maintain constant temperature, which not only reduces energy consumption, but also improves work efficiency.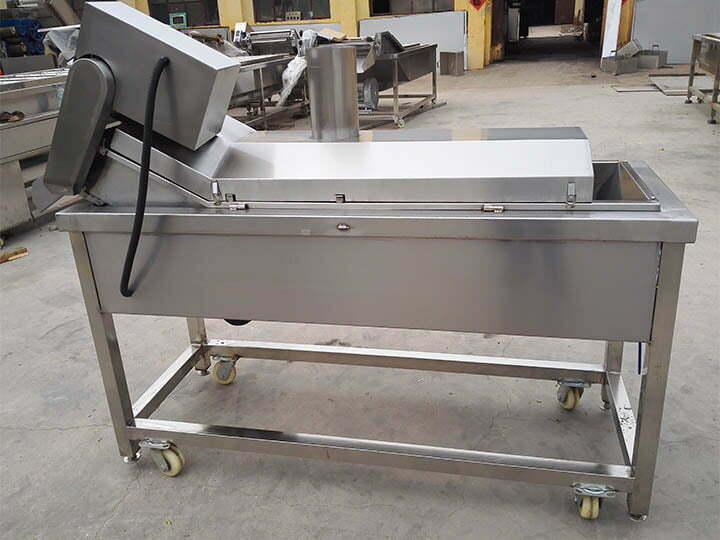 Plantain banana chips videos
continuous deep fryer for snacks
Batch fryer machine with portable frying baskets
Popular flavors of banana chips
Fried banana chips are usually made of immature banana fried in sunflower seed oil or coconut oil. Salt, spices, sugar coating, etc. can be added for sweet, salty, or spicy flavors. Banana chips or plantain chips can be also covered with sugar or honey and have a sweet taste. These flavors are commonly seen in the market. We also have plantain chips flavoring machine for sale.
For more details about our banana chips fryer machine, please do not hesitate to contact us.