The potato peeling machine is also called the brush cleaning machine. It mainly removes potato skins by friction between the brush and the potatoes. The machine applies to small businesses and large industrial production. It has a wide application range, and you can replace soft and hard brush to suit different raw materials. The potato peeling machine is welcomed by customers because of its wide output and wide range of applicable raw materials.
Features of commercial potato peeling and washing machine:
1. The peeling machine adopts all 304 stainless steel, so it is more durable and corrosion resistant;
2. The machine has 9 brushes, which are made of materials with good elasticity, moderate hardness, and wear resistance. Therefore, when cleaning potatoes, it can achieve the effect of removing the potato skin without damaging the potatoes;
3. The machine is easy to operate and movable;
4. Commercial potato peeling machine has a variety of output options to meet the needs of different customers;
5. We provide soft and hard brush accessories for customers to replace to meet subsequent production.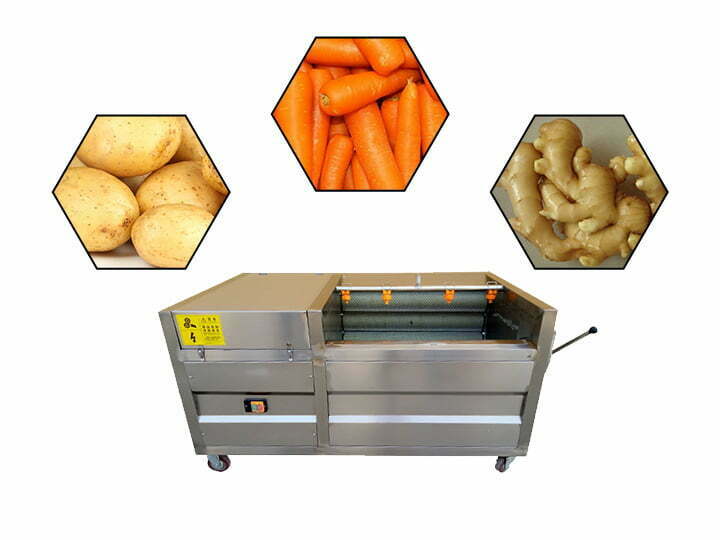 Kenya customer ordering potato peeling machine details
The customer needs a machine to process potatoes and carrots. He needs a machine that can wash and peel potatoes and only wash carrots, and the output can reach 1000kg/h. We recommended a brush cleaning machine for him. In order to meet his requirement of using one machine to process the two raw materials, we have equipped him with several soft and hard brushes. Taking into account that he will often use the washing machine, we have equipped him with a sprinkler so that he does not need to buy accessories from China in a few years.
The customer also asked us to help him find a transportation agent in China. So it is best to help him with customs clearance. We found a transportation agent who can make double clearance for him. After the customer places the order, we deliver the machine to the shipping company and sent the documents to the customer. The machine is expected to arrive at the port at the end of October.