The crinkle fries cutter machine also called a multifunctional vegetable cutting machine cuts potatoes into crinkle shapes. The crinkle-cut french fries cutter machinery has the characteristics of multiple functions, simple operation, convenient maintenance, low noise, high yield, and high efficiency. The thickness of sliced chips or potato strips is adjustable.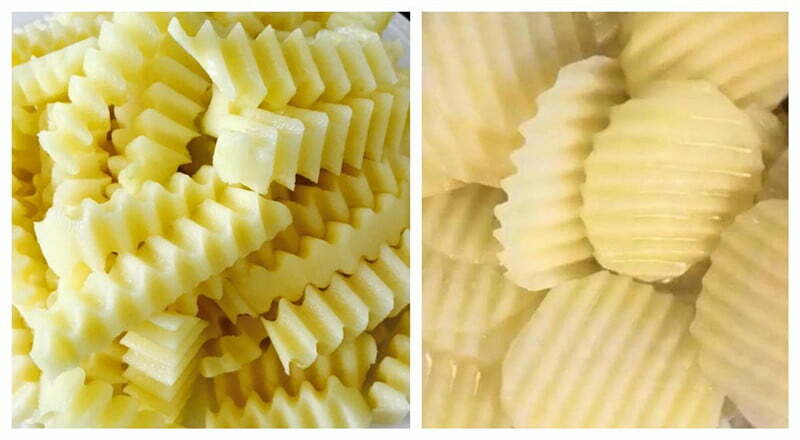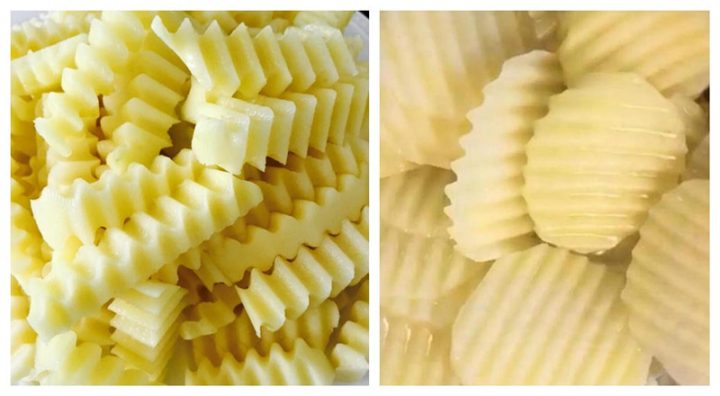 The final potato slices and strips out are neat, and uniform in thickness, and the quality is far better than that of manual slicing. The potato crinkle cutter machine can also be used to cut other kinds of vegetables, suitable for canteens, restaurants, vegetable processing plants, french fries production lines, potato chip production lines, etc. To make crinkle fries or chips, the Taizy factory has different cutting machines that can be selected.
How to make crinkle french fries?
Taizy Factory can provide cutting machines for the fast processing of wavy French fries. The processing efficiency of this cutting machine is from 300kg/h to 600kg/h. The crinkle fries cutter machine is often used in the quick-frozen French fries production line.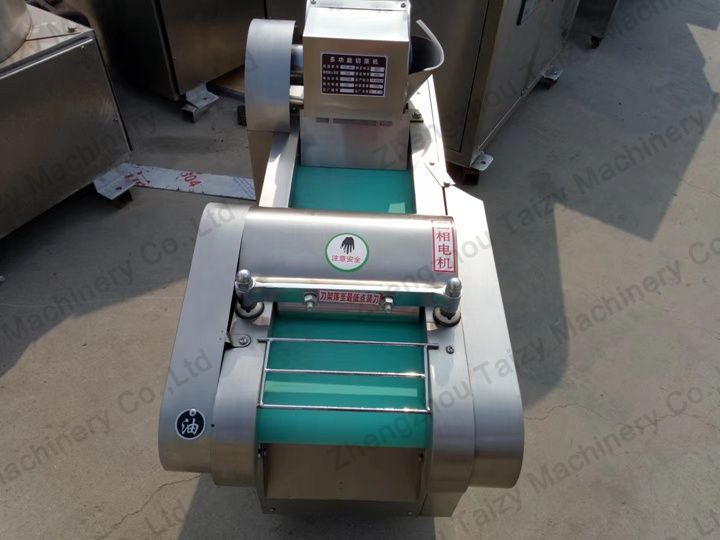 Application of crinkle fries cutter machine
The main use of the crinkle fries cutter machine includes:
Bulbous fruits and vegetables, such as potato, radish, onion, pepper, cassava, taro and other round vegetables
Leafy vegetables, such as cabbage, celery, garlic, chives, etc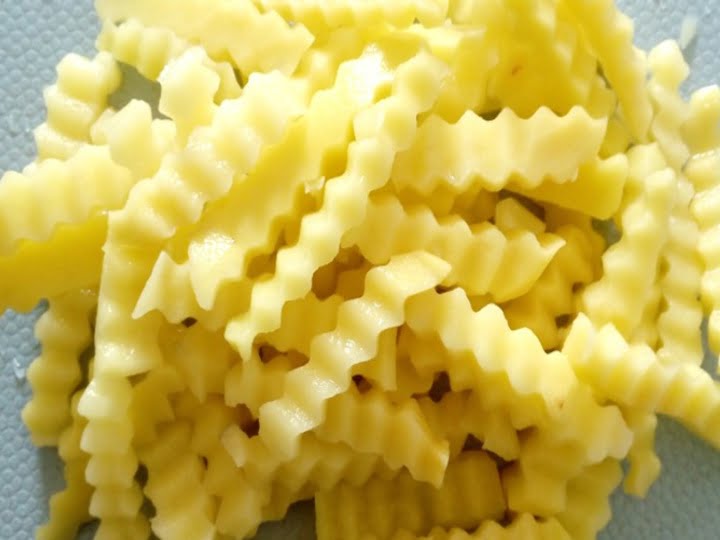 Crinkle fries cutting process
There is a cylinder-like centrifugal slicing device behind the crinkle-cut fries cutter machine, which is mainly used for slicing. The corrugated blade can also be used to cut crinkled french fries or potato chips, etc.
First, put the cleaned potato into the centrifugal bucket of the machine and directly cut it into slices. Then the materials fall on the conveyor belt and move to the corrugated blades. After that, they cut the materials to form crinkle-shaped french fries.
Structure of crinkle cut french fries cutting machine
This multifunctional crinkle-cut french fries cutting machine is equipped with a planing centrifugal bucket, and the thickness of the slicing is 2-10mm adjustable. The corrugated blade can also be used to cut crinkled french fries, crinkle potato chips, etc.
The crinkle-cut chips cutter machine mainly contains the cutter, protective cover, slice discharging port, operation panel, protective net, feeding port, conveyor belt, discharging port, cleaning brush.
Vegetable cutting machine working principle
The crinkle-cut fries cutter machine simulates the principle of manual cutting and adopts a three-stage speed change to meet the needs. The processed surface of the cut vegetables is smooth and regular.
The centrifugal slicing mechanism completes the slicing of all kinds of hard vegetables, which are automatically transported to the vertical knife for shredding or cutting. It is suitable for the processing of hard and soft root, stem, and leaf vegetables.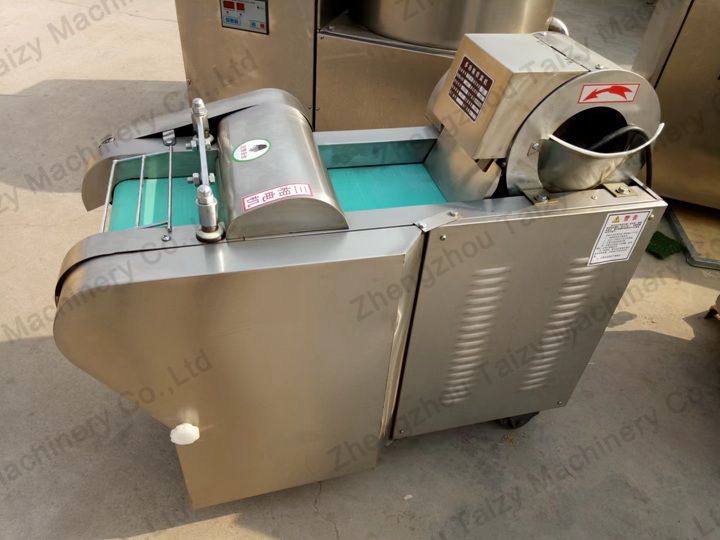 Potato crinkle fries cutter machine advantages
High-quality stainless steel material
Beautiful appearance
Simple operation and easy adjustment
Convenient maintenance, low noise
High yield and high efficiency.
Adjustable sizes. The general sizes of the fries are 7-12mm. The final products are neat, and in uniform thickness.
Parameters of crinkle fries cutter machine
| | | | | | |
| --- | --- | --- | --- | --- | --- |
| Model | Voltage | Power | Size | Weight | Capacity |
| Model 600 | 220V/50HZ | 0.75kw | 900x460x740mm | 140kg | 100-600kg/h |
| Model 1000 | 220V/50HZ | 1.1kw | 1300x510x1050mm | 380kg | 200-1000kg/h |
crinkle fries cutter diameter
How to make wavy potato chips?
The machine used to process wavy chips is different from the machine used to process crinkle fries. Our factory has a variety of fruit and vegetable cutting machines that can process wavy potato chips, the most popular of which is the following vertical potato chip cutting machine. The potato chip cutting machine is widely used in various potato chip processing plants due to its high processing efficiency and simple operation.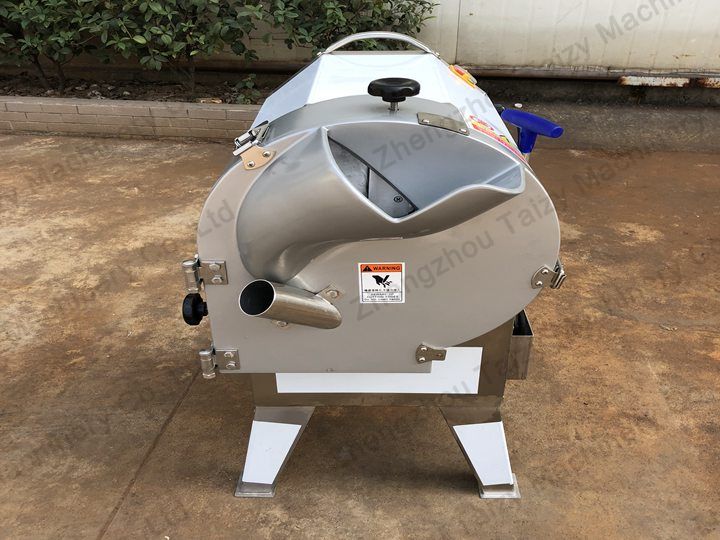 Features of wavy potato chips cutter machine
The structure and components of this wavy potato chip cutter are made of high-quality 304 stainless steel, which is very wear-resistant and corrosion-resistant.
This potato slicer has multiple feeding ports for the convenient feeding of raw materials of different shapes and sizes. Therefore, the slicer has a wide range of uses and can process all kinds of fruits and vegetables.
The cutter head of this wavy potato chip cutter can be replaced. We can process finished products of different sizes and shapes by changing different cutter heads, such as potato sticks, potato chips, potato cubes, etc.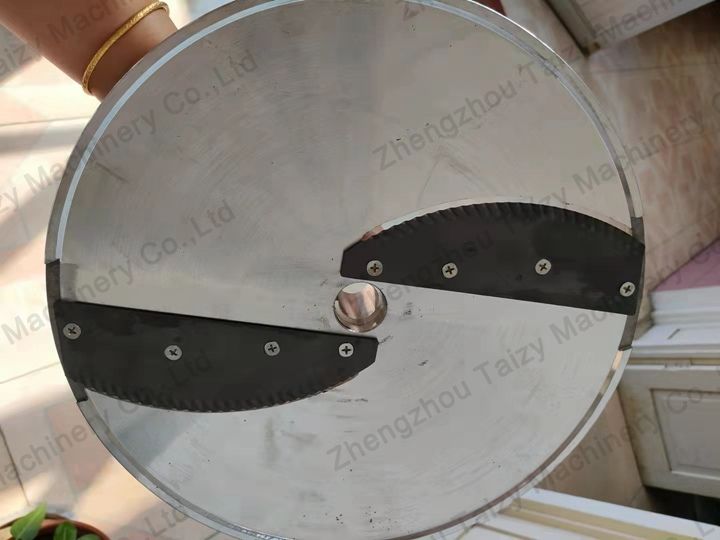 Finished crinkle chips display
The thickness of the wavy potato chips processed by the wavy potato chip cutting machine can be adjusted, and customers can process wavy potato chips that meet their needs according to their needs.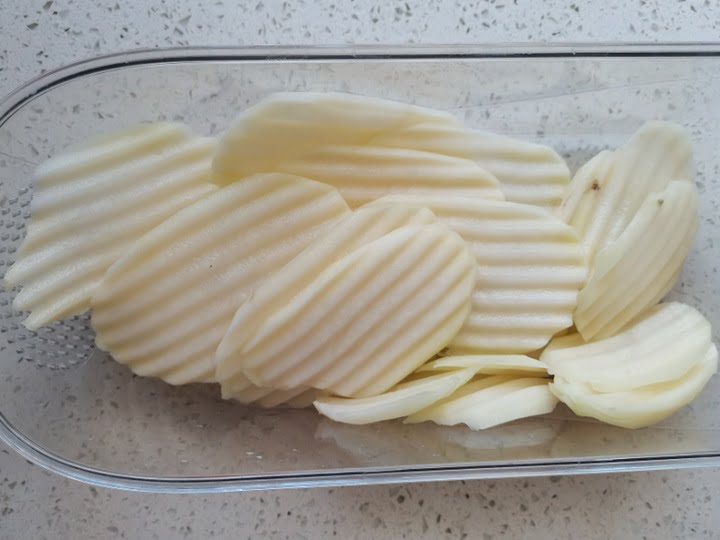 Wavy potato chips cutting machine video