Iraqi customer bought 200kg/h fully automatic French fries production line from us, and he has paid the deposit a few days ago. And the balance will be made after we finish all the machines.
We provide him best French fries processing line
This client speaks Arabic, even though it is a little bit difficulty about the communication, we try our best to make him understand what we express. After knowing the capacity he wants and the size of his factory, we draw a suitable plan for him, and all the machines are designed according to the situation of his factory. Only in this way can he operates them smoothly. But he still worries a lot.
We sole his problems out about French fries production machine
Firstly, he wants to fully automatic French fries production line, which means that there are less people to operate. Actually, even it is fully automatic, it still needs 3-5 people during working. He told us that he only wants 3 people to finish all the processes, and we tell him that it can be achieved by adding more hoist and elevator between machines and machines.
Secondly, the he needs a higher working efficiency towards french fries packing machine. We recommend him to buy ten-bucket packing machine that boasts high precision and fast speed.
Thirdly, he wants to know how can he earn the money he invest back. This is what most customers care about, people who buy this French fries processing line all hope to obtain high profit. After knowing the price of local potatoes, French fries market and local consumption level, we estimate that he can return the money in about 6 months.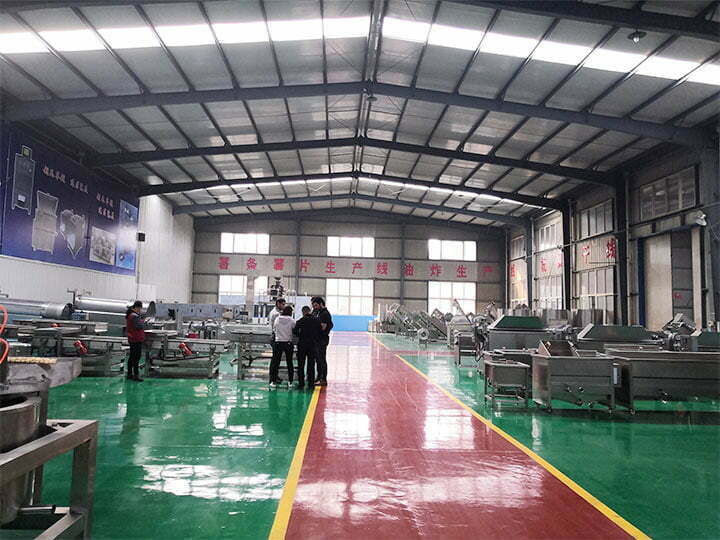 Why he choose Taizy French fries processing line?
We not only sell machines, but also provide customers with high-quality services and help them to make profit analysis.
If necessary,we can assign professional engineers to install machine for him.
All the machines in French fries processing line are made of stainless steel with high quality, and you do not need to worry about its service life.
All in all, we have been manufacturing the French fries processing machine for more than 10 years, all the customers who bought our machines give us positive feedback. We are extremely confident about the quality of our machines, aiming to serve our customers with high enthusiasm.