The ginger peeling machine is the best machine for ginger peeling. It can wash and peel ginger. And the peeling effect is extremely high. The peeling machine has a reasonable structure design, and the machine material is made of food-grade stainless steel. When running with high-pressure spray, it can effectively remove stains, dust, and pesticide residues on the surface of fruits and vegetables.
Working principle of commercial ginger peeler machine
First pour the ginger into the machine, the brush of the brush cleaning machine, and the ginger move in reverse. There is friction between the brush and the ginger to achieve the peeling effect. However, due to the irregular shape of ginger, ordinary washing machines cannot touch the inside of ginger, so the peeling effect is poor.
The brush of the commercial ginger peeler machine can fully contact the ginger, so the peeling effect is greatly increased. While the ginger and the brush are rotating, there is a row of spray pipes on the top to spray the ginger in order to remove dust and stains on the surface of the ginger. After peeling is complete, you can open the side door next to it. The peeled ginger will automatically come out of the outlet.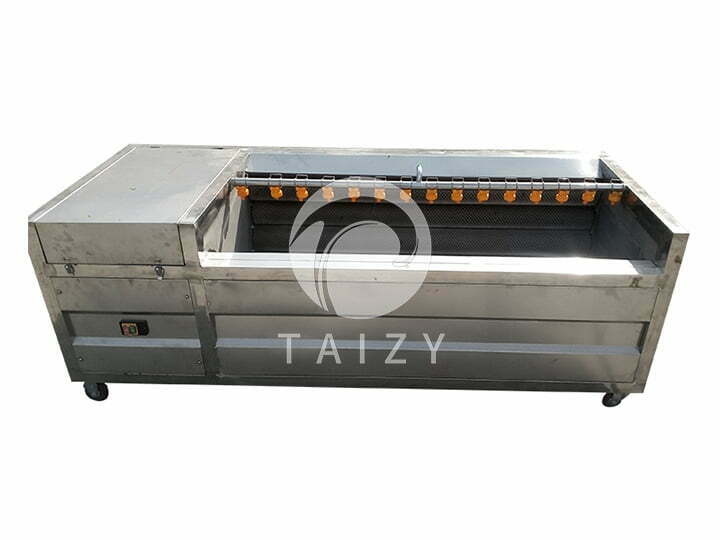 How is the ginger peeling machine price
The price of the ginger peeler machine is related to the number of brushes, the material of the machine, and the output
In order to meet future production requirements, many customers usually purchase multiple brushes for replacement. The number of brushes and the material of the brushes will affect the price of the machine;
In order to reduce the production cost of the machine, many manufacturers usually use non-stainless steel or stainless steel for the main body, and other materials for the non-main body. Therefore, the price of a machine with the same output often appears on the market at a very different price. The Taizy ginger peeling machine is made of all 304 stainless steel.
Taizy provides commercial ginger peeling machines with different outputs for customers to choose, such as 500kg/h, 700kg/h, 1000kg/h…
The above three factors are the most important factors affecting the commercial ginger peeler machine. Therefore, if you want to know the price of the ginger peeling machine, please contact us. And then tell us your production output and peeling materials, we will quote you the machine price as soon as possible.