The industrial french fries cutting machine is mainly a machine that cuts potatoes into vertical strips. The potato cutting machine is often used in the French fries production line. The size of potato strips cut by this commercial potato strips cutting machine is uniform, and the cut size is 3~12mm. Moreover, the potato cutting machine for french fries can cut French fries of different lengths by changing the blades. The industrial French fries cutter machine can be used in vegetable processing companies, snack food factories, restaurants, canteens, vegetable markets, and other places.
The related machine with industrial french fries cutting machine
As we all know, there is outer skin on the surface of the potato with little soil, so we need to wash it first and then remove the outer skin. Such a machine is small size potato washing and peeling machine. The inner wall of it is made of special raw material that is able to peel the skin without any damage to the potato itself. when working, you can connect the machine with the water pipe to fully clean the potatoes.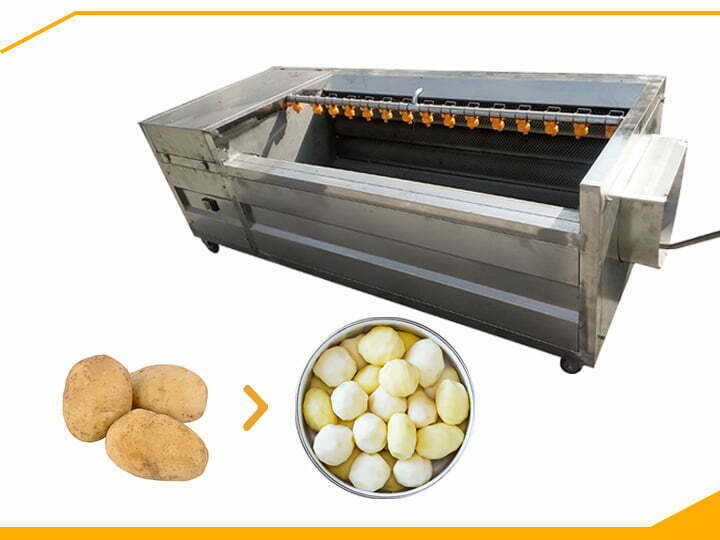 Technical parameter
| | | | | |
| --- | --- | --- | --- | --- |
| Model | Size (mm) | Weight(kg) | power(kw) | Output(kg/h) |
| TP10 | 600*430*800 | 70 | 0.55 | 300kg/h |
| TP15 | 700*530*900 | 85 | 0.75 | 500kg/h |
| TP30 | 700*650*850 | 100 | 1.1 | 800kg/h |
After washing and peeling, we should cut the potato into pieces or strips for different uses. The following are 4 types of potato cutters.
Type 1: Industrial french fries cutting machine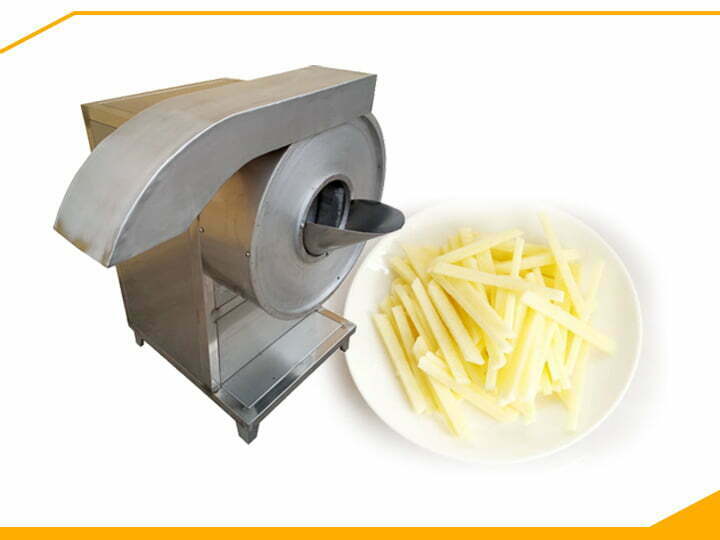 The French Fries cutter machine can quickly cut potatoes into strips of different sizes.
The French fries cutting machine firstly cut the potato into slices that are cut into strips. The size of the potato slice usually is 8*8, 9*9,10*10mm, and it can be customized in accordance with your needs. The range of the size is 6*6mm to a max of 15*15mm.
Commercial French fries cutting machine video
The technical parameter of industrial french fries cutter
| | |
| --- | --- |
| Model | TZ-110 |
| Size | 950x800x1600mm |
| Size of French Fries | 6*6mm to max 15*15mm(it can be customized). The general specification is 8*8, 9*9,10*10mm |
| Power | 1.1kw |
| Capacity | 600-800kg/h |
| Voltage | 380v,50hz |
| Raw material | SUS304 |
industrial french fries cutting machine
Type 2: Multifunctional potato cutting machine for chips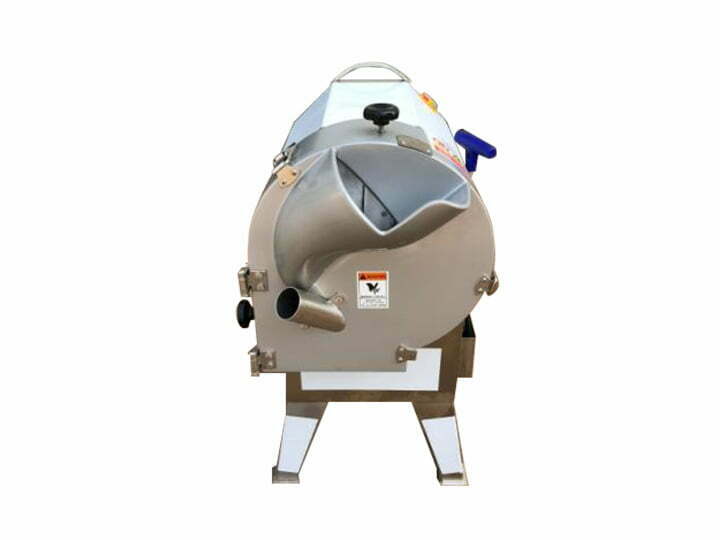 This potato chips cutter not only can cut potatoes but other fruits and vegetables such as cucumber, carrot, banana, etc. It is very easy to operate. You just need to put the potato into the machine and place a container under the outlet. You will get the slices after several seconds.
Professional potato chips cutting machine operation video
The advantage of potato chips cutting machine
The thickness of the potato slices is around 2mm, and the final potato chips bear a crisp taste after frying. What's more, you can adjust the thickness on the basis of your need.
The shape of the slices can be flat or wave, which can be achieved by changing the inner blades.
The two inner blades are made of stainless steel, and they can be used for a long time.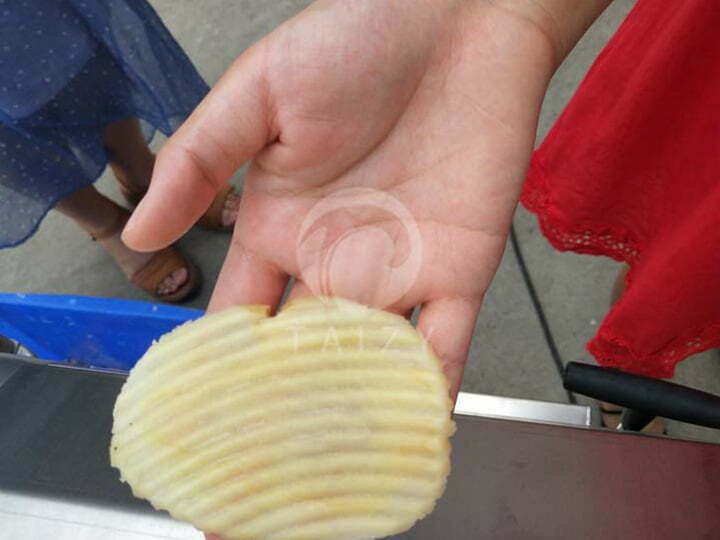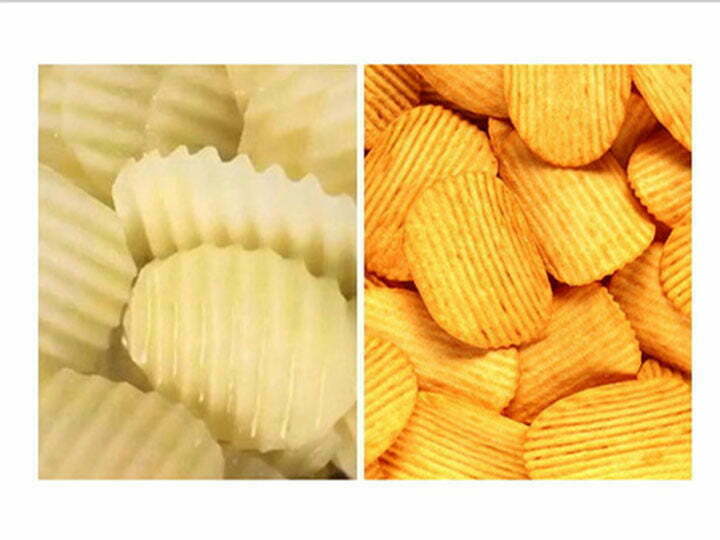 Technical parameter
| | |
| --- | --- |
| Capacity | 600 kg/h |
| Dimension | 950*800*950 mm |
| Voltage /power | 1.1 kw 380 V |
| Weight | 110 kg |
Type 3: Press-type potato chips cutting machine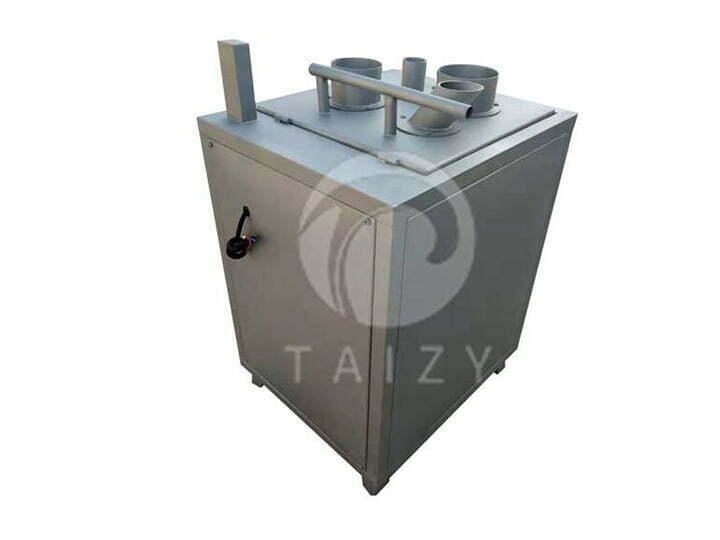 The press-type potato chips cutting machine, also known as the banana slicer machine is specially designed to cut fruit and vegetable with long or cylindrical shapes such as potatoes, carrots, white radishes, green radishes, sweet potatoes, lotus roots, apples, pears, etc.
You need to use your hand to push potatoes when working. The thickness of potato slices is 2-6mm.
Potato chips cutting machine video
The advantage of press type potato cutting machine
The surface of the final potato slice is even and smooth, which lays the foundation for frying delicious potato chips.
You can adjust the angle of the rotary cutter.
It is fit for various vegetables and fruits.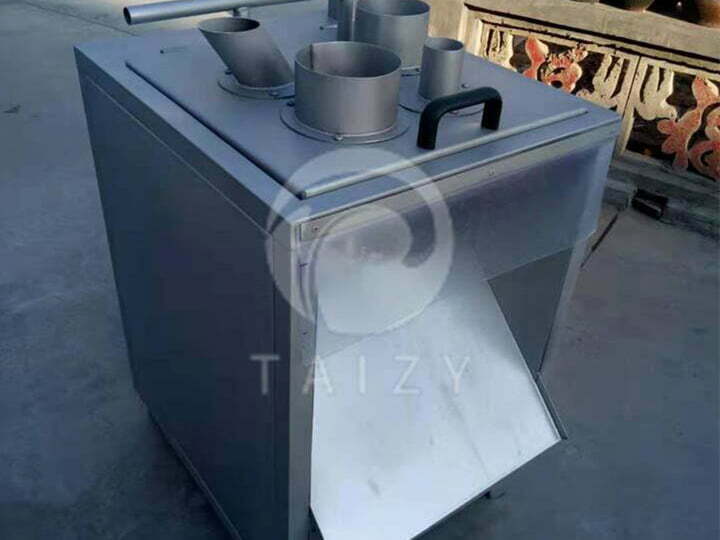 Technical parameter of potato slicer machine
| | |
| --- | --- |
| Model | TZ-600 |
| Size | 700*700*900mm |
| Weight | 160kg |
| Power | 1.5kw |
| Capacity | 500kg/h |
| Voltage | 220v |
Type 4: Crinkle Cut French Fries Chips Cutter Machine
The automatic crinkle-cut fries cutter machine cuts potatoes into crinkle shapes with high efficiency and functions. The output reaches 100-1000kg/h. The size of french fries is adjustable, generally reaching 7-12mm.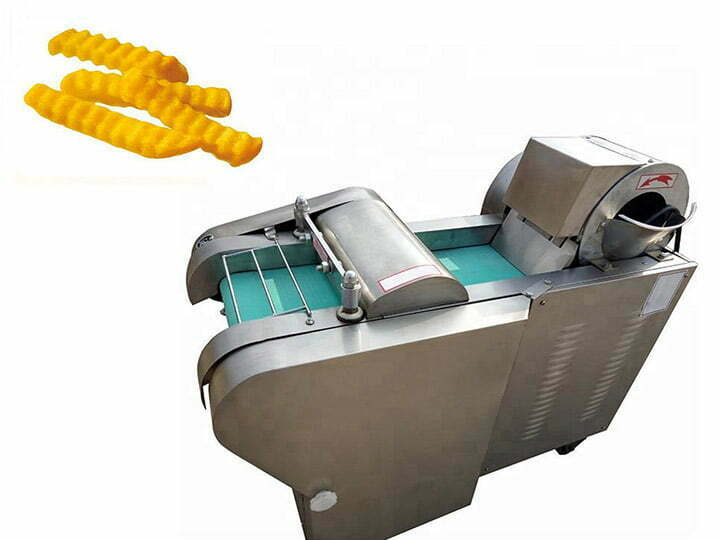 In conclusion, Taizy Machinery, a professional food machinery manufacturer, provides high-quality potato cutting machines of different types to meet various customer needs. Besides, customization services are available in terms of machine material, size, voltage, outputs, etc. Our diverse products and comprehensive services have been exported to a large number of countries and regions.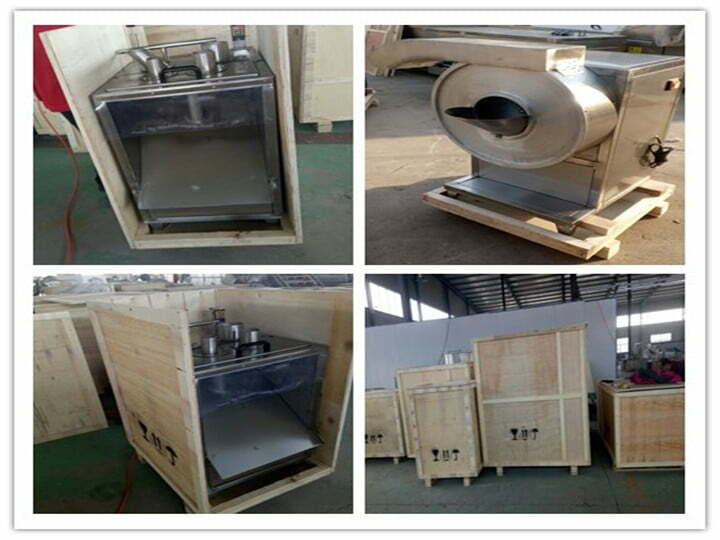 We would be glad to hear from you if you are interested in our industrial french fries cutting machine.