Ginger washing and peeling machine is a brush-type cleaning and peeling equipment designed to meet the needs of deep processing of ginger, potatoes, sweet potatoes, carrots, yam, cassava, and so on. The ginger peeling machine also called the potato peeling machine, has the advantages of reasonable structure, high cleaning and peeling rate, and convenient operation. The synchronous rotation of multiple brushes removes the dirt and impurities attached to the vegetables without damaging the materials. The spray water pipe can spray and flush the materials. The ginger washing machine can be used alone or applied in vegetable or fruit processing lines in restaurants, canteens, vegetable markets, or food processing plants.
Highlights of ginger washing and peeling machine
Made of stainless steel. The ginger washing machine is anti-rust, suitable for humid environment and has a long service life.
The soft and hard hairs on the brush rollers are made of high-quality nylon, which is durable and has good wear resistance. The brush rollers brush and rub materials to remove the skins, without damage to the materials.
Large volume, high efficiency and low energy consumption. The ginger peeling machine can work continuously, and the output can reach 700-2000kg/h.
A water collection tray and water outlet are installed at the bottom of the machine to prevent sewage and waste from polluting the ground.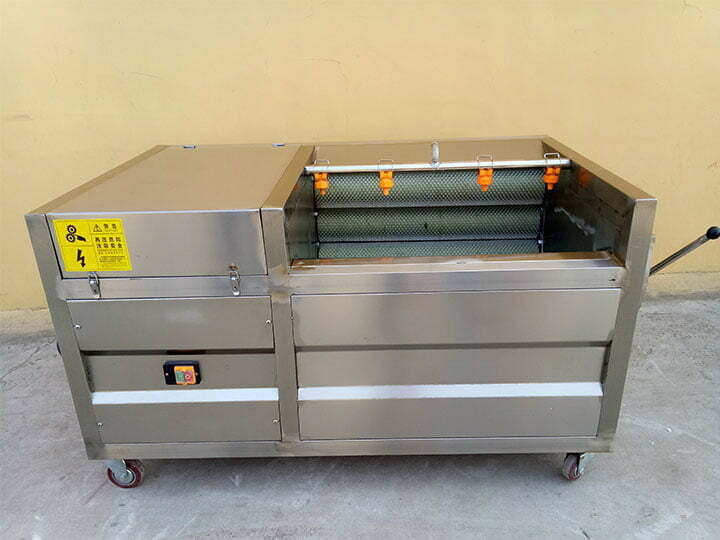 How does the ginger peeling machine work?
The ginger washing and peeling machine is easy to operate. Put materials in the feeding port and start the machine. When the rough rollers are driven by the motor, they rotate along the direction of the discharge port. Under the action of the friction force of the brushes and its own centripetal force, the material moves in the direction of the discharge port. During the movement, the brushes contact the material surface to remove the impurities and skins. Under the action of the circulating pump, water enters the nozzle along the spray pipe to flush the material. Washing can reduce the friction between the material and the brushes to prevent damage and wash away the impurities in time. After finishing peeling, open the discharging gate and the peeled products come out automatically.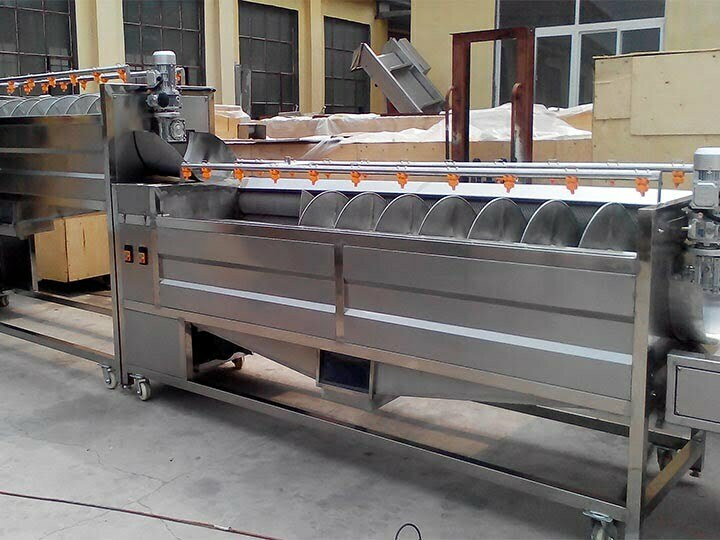 Precautions for preservation of ginger
Generally, ginger should not be stored in a humid or high temperature place, otherwise it is easy to get moldy.
For old ginger, it is not suitable for cold storage, but can be placed in a ventilated place and sand. Tender or fresh ginger shall be wrapped with fresh-keeping film and stored in the refrigerator.
For more details about automatic ginger washing and peeling machine, welcome to get in contact with us.