The french fries flash freezer machine is used to quickly freeze the french fries, often applied in the frozen french fries production line, and it also can be used for other food. The french fries blast freezer can quickly cool it at an ultra-low temperate, so as to maintain its nutrition and fresh taste and inhibit bacteria. The refrigeration system consists of 4 basic parts, namely, the compressor, condenser, throttling components, and evaporator. The flash freeze machine is suitable for small and medium frozen food workshops, frozen french fries factories, and other kinds of food processing units.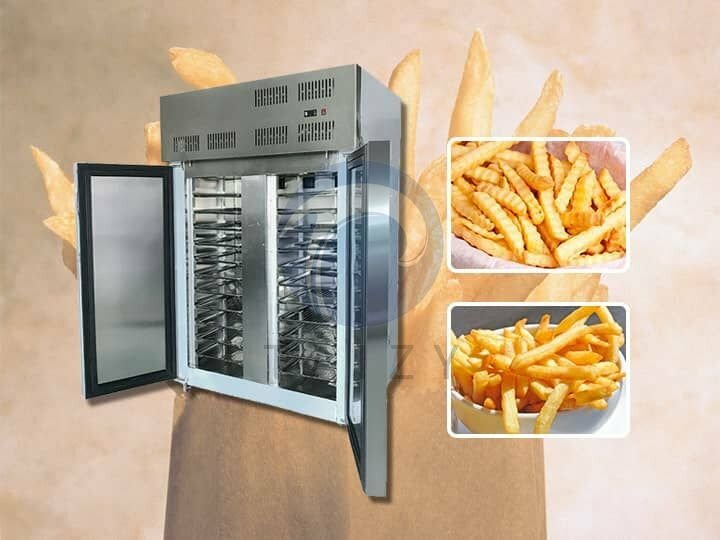 French fries flash freezer machine advantages
Balanced freezing and freshness. The flash freezer machine has a built-in suction convection fan, and it has 360-degree circulating air cooling, fully maintaining the freshness of french fries.
Adjustable shelves height. The height of the shelf is adjustable, which can store various canned and bottled food more freely with a strong bearing capacity.
Intelligent and multi-functional temperature control system. It achieves precise temperature adjustment.
Intelligent water removal device.
Internal lighting device.
High-quality stainless steel shell and liner with good corrosion resistance. In addition, it is durable, meeting the requirements of sanitary certification.
Less loss of water content. It can also inhibit the growth of bacteria in order to ensure the taste and safety of french fries or other food.
Universal swivel casters and gravity adjustment device. The blast freezer is easy to move.
Customization service available. Power supply, voltage, and frequency can be customized according to customer requirements.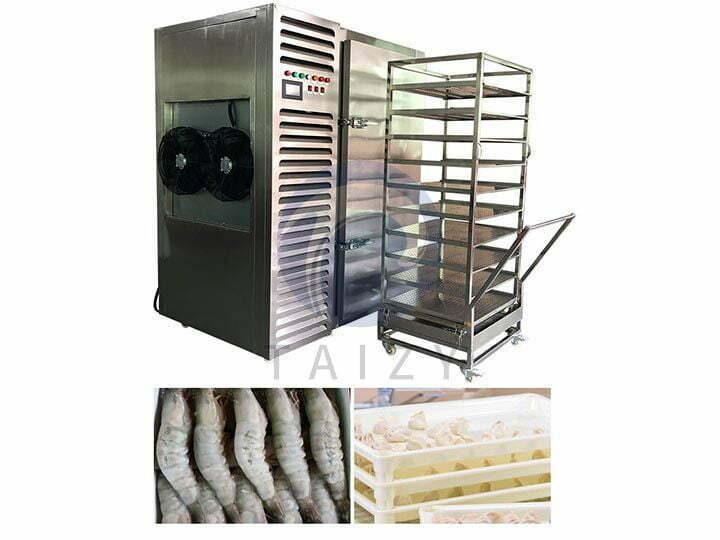 Technical parameter of industrial french fries blast freezer
| | |
| --- | --- |
| Model | TZ-1100L |
| Number of layers | 30 layers |
| Electrical Specifications / Voltage | 380 |
| Electrical Specifications / Hertz | 50 |
| Limit temperature / °C | -45 |
| Refrigerant category | R-404A |
| Condenser | Air cooling |
| French Taikang Compressor | 6.5P |
| Rated power / kw | 5.5KW |
| Shelf size / mm | 400*600 |
| Inner dimension (length, width, height) / mm | 900*630*1735 |
| Dimensions (length, width, height) / mm | 1637*1150*2068 |
The above table shows the main technical data of CYSD-1100L, one of our flash freezer machine models. The standard layer number is 30, and it can be changed to 10, 15, or others. The number of layers can be allocated according to the spacing There are single-trolley and double-trolley (each having the same layers) types for options. The weight of each batch of french fries is related to the density and thickness; however, it should be too thick.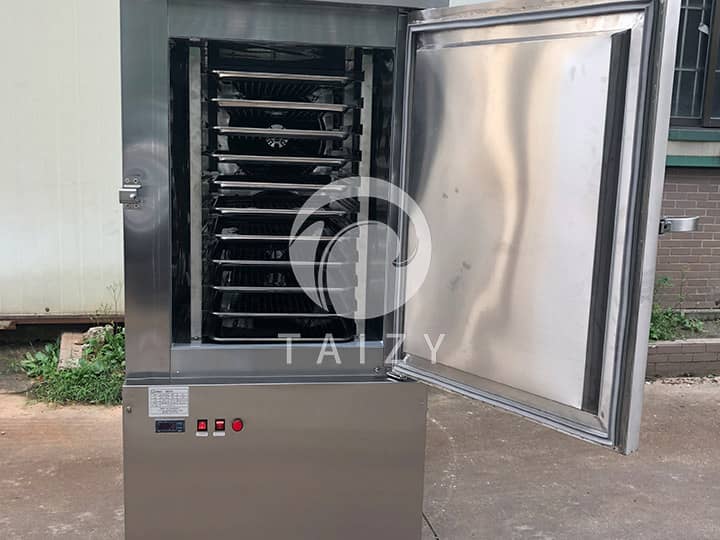 Wide application scope
The blast freezer machine is applicable to a wide range of food, such as the preservation of seafood, ice cream, quick-frozen dumplings, rice balls, and meat.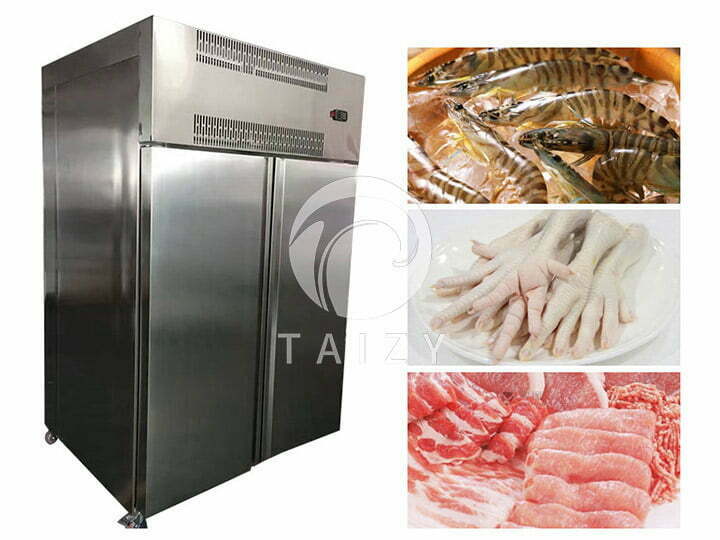 Precautions for placing the flash freezer
1. Away from heat sources and not exposed to direct sunlight. When working, the flash freezer machine exchanges heat with the outside world, which means that it needs a condenser to dissipate heat. If the outside ambient temperature is high, the heat dissipation will be slower. In this case, it increases power consumption, triggering a poor cooling effect.
2. A place with low humidity. Since refrigerators, freezers, condensers, and compressors are made of metal materials, if the air humidity is too high, these parts will rust and shorten the life of the refrigerator. At the same time, the humid environment will cause condensation on the surface of the flash freeze machine
3. A well-ventilated place. If the flash frozen machine is around debris or is too close to the wall, it is not conducive to heat dissipation and will affect the cooling effect. There should be a space of at least 30CM on the top surface of the freezer, and at least 10CM on the back to facilitate heat dissipation.
4. On flat and solid ground. This is not only for safety reasons, but also allows the compressor to work smoothly, reducing vibration and noise.
5. Not in a flammable, explosive, and corrosive environment.
6. The flash freezer must be cleaned and disinfected regularly. Fat in food is a breeding ground for fungi and bacteria. To avoid contamination, all parts in contact with french fries must be cleaned regularly.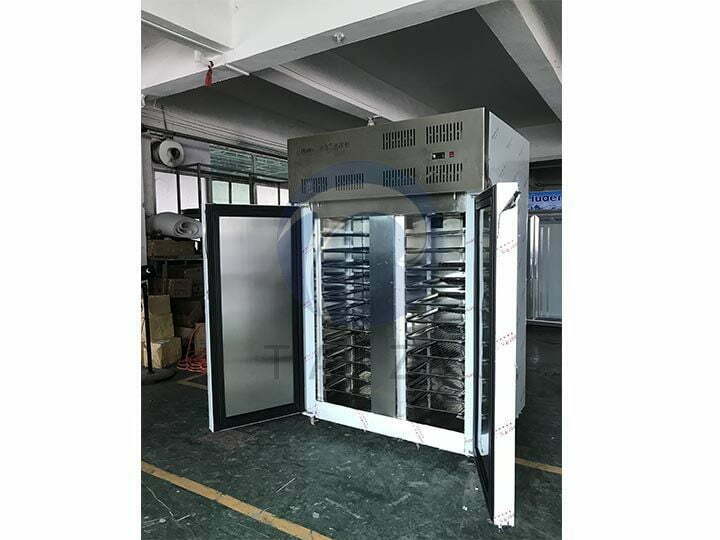 How to move an industrial fries freezing machine?
1. Users need to lift the bottom of the fries flash freezer machine. It is not allowed to hold the door handle or exert force on the table and the condenser, let alone drag on the ground.
2. The maximum inclination angle of the blast freezer cannot exceed 45 degrees, and it cannot be placed upside down or horizontally. Otherwise, it will damage the compressor. Even worse, the refrigerating oil in the compressor will flow into the refrigeration pipeline, affecting the refrigeration effect and causing the compressor to spring.
3. During transportation, it is necessary to prevent bumps and severe vibrations.
Another type of equipment: french fries tunnel instant freezer
To realize continuous freezing in fully automatic frozen food production lines, we also provide french fries tunnel freezers. The blast tunnel freezer can realize continuous quick freezing work. The tunnel freezer machine transports the goods into the tunnel through the conveyor belt, the goods are quickly frozen after passing through the tunnel and then transported out for the next step. The unit automatically shuts down according to the temperature in the tunnel. It not only improves the utilization rate and production efficiency of the equipment, but also saves the power consumed by the unit due to frequent startup, and plays an energy-saving role.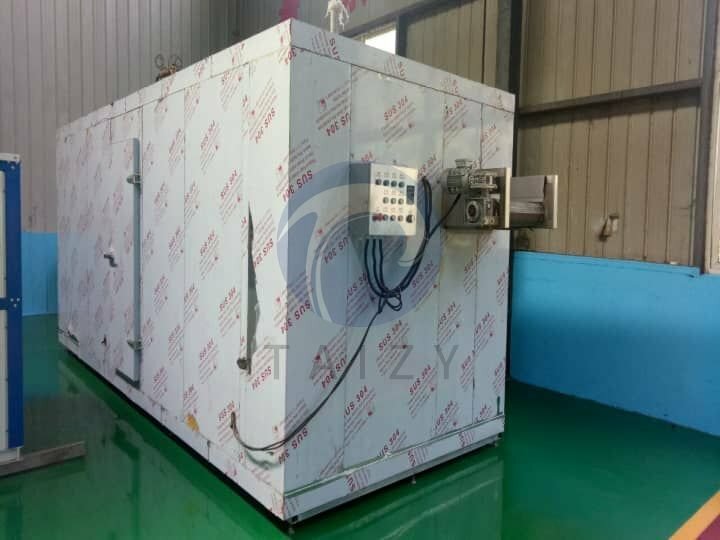 Specification of french fries tunnel freezer
| | | |
| --- | --- | --- |
| Model | Working Length(mm) | Power(kw) |
| TZ-100 | 7100 | 25 |
| TZ-200 | 9100 | 30 |
| TZ-300 | 11000 | 30*2 |
| TZ-400 | 13000 | 75 |
| TZ-500 | 15000 | 100 |
| TZ-1000 | 21000 | 150 |
| TZ-2000 | 26000 | 150*2 |
Taizy Machinery design, manufacture and sell different types and models of french fries quick freezer machinery to match customers' needs. For special demands, we can offer tailored services. We have exported the machines to many countries, including the USA, Turkey, Germany, Saudi Arabia, Iran, South Africa, Uganda, Pakistan, etc. Our guaranteed product quality and comprehensive services have brought us good feedback. Welcome to contact us for professional advice.
Related articles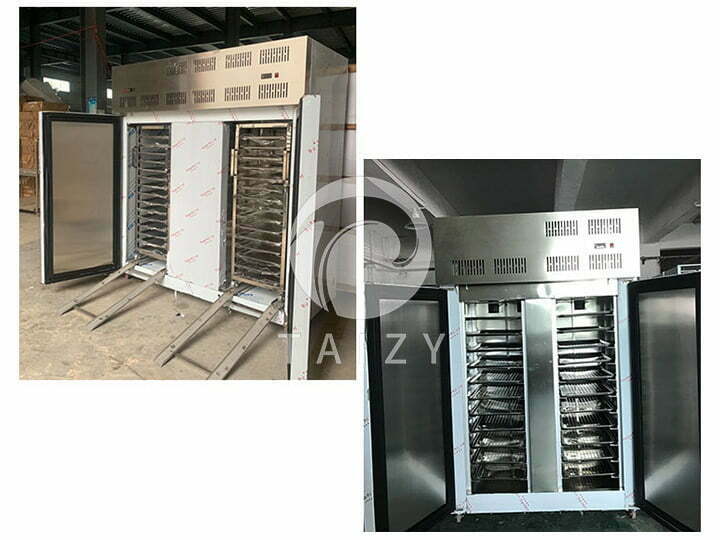 How to save the power of instant quick freeze machine?
we must consider not only economic benefits, but also social benefits. Commercial instant quick freeze machine is very popular with consumers.