Fully-automatic banana chips production line is a professional equipment to produce deep-fried banana chips. Compared with the semi-automatic plantain chips production line, these lines include more machines that greatly decrease the labor coast and improve working efficiency.
The capacity of the banana chips production line is 200-500kg/h. Now I take the capacity of 300kg/h as an example. We have professional technicians to provide you the best solutions if you need other capacities.
What kind of machines are needed during this plantain chips production line, the list is as follow.
Full automatic banana plantain chips making machine video
All the machines in Fully-automatic banana plantain chips production line
Number
Machine name
Machine parameters
1
Green banana peeling machine
power:0.8kw
capacity:300kg/h
weight:230kg
size:2100*1060*1040mm
voltage:220v/380v
2
Banana slicer
power:1.2kw
capacity:500kg/h
weight:100kg
size:1100*900*1200mm
voltage:220v/380v
3
hoist
power:0.55kw/380v/50hz
size:1800*800*1300mm
4
Banana plantain frying machine
capacity:300kg/h
heating method:electric
size:3500*1200*2000mm
voltage:80kw 220V 50HZ
belt width:800mm
5
cooling and dryer line
size:3500x1200x1600mm
power:6.5kw/380v/50Hz
6
elevator
size:1800*800*1300mm
power:0.55kw/380v/50hz

7
leaching sugar machine
size:3500x1200x1400mm
power:60kw/380v/50Hz
8
elevator
size:1800*800*1300mm
power:0.55kw/380v/50hz
9
Banana chips frying machine
capacity:300kg/h
heating method:electric
size:3500*1200*2000mm
voltage:80kw 220V 50HZ
belt width:800mm
10
De-oiling machine
power:0.5kw
voltage:380v/50hz
size:1800*1000*900mm
11
hoist
size:1800*800*1300mm
power:0.55kw/380v/50hz
12
banana chips seasoning machine
power:1.5kw
capacity:300kg/h
weight:300kg
size:1500*1000*1500mm
voltage:220v/380v
13
plantain chips packaging machine
Maximum weight:1000g
single weighing range:10-1000g
weighing accuracy:±0.3~1.5 g
weighing capacity:maximum 3000cc
weighing speed:60times/minute
application:50kinds of food
control components"8.4inch button screen
As the above chart showed, there are two hoists and two elevators. An elevator is an indispensable machine in the fully automatic production line. It replaces the manual delivery of banana slices, which is more efficient and cleaner.
And the material of all elevators in the banana chip production line is food-grade material, and its speed can be adjusted according to production requirements. And the size of them can be customized according to your factory.
What're the steps in the banana chips production line? I introduce the main machines to you one by one.
Step one: Green banana peeling machine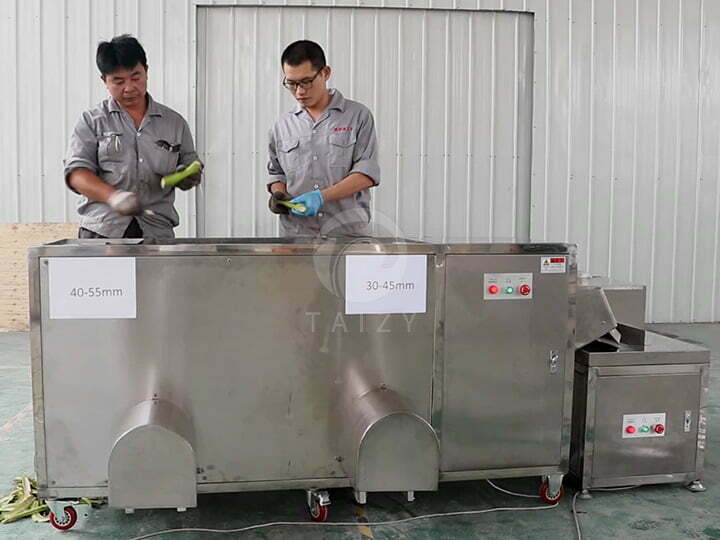 Without any question, we firstly should peel the green banana, and this green banana peeling machine is able to remove the peel of the banana at high speed. Importantly, the peeled banana is intact without any broken banana.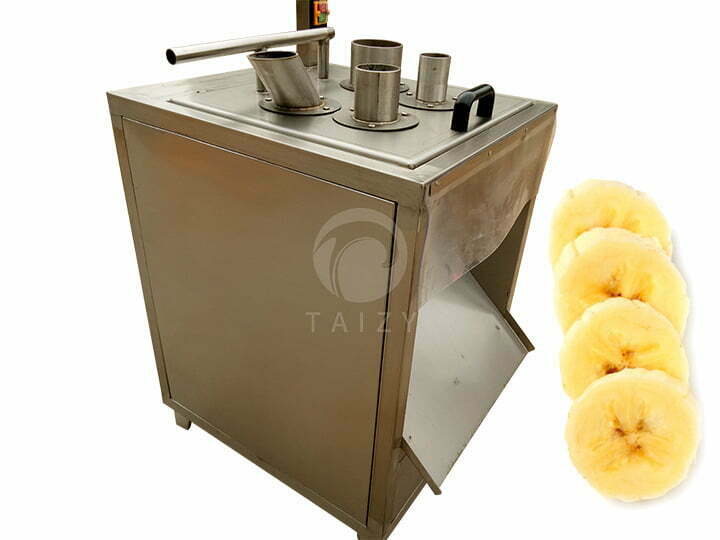 Press type slicer machine is favored by most of the customers since its cutting effect is perfect and it also can be used for other fruits and vegetables. As for banana, its capacity can reach 500kg/h.
Step three:Hoist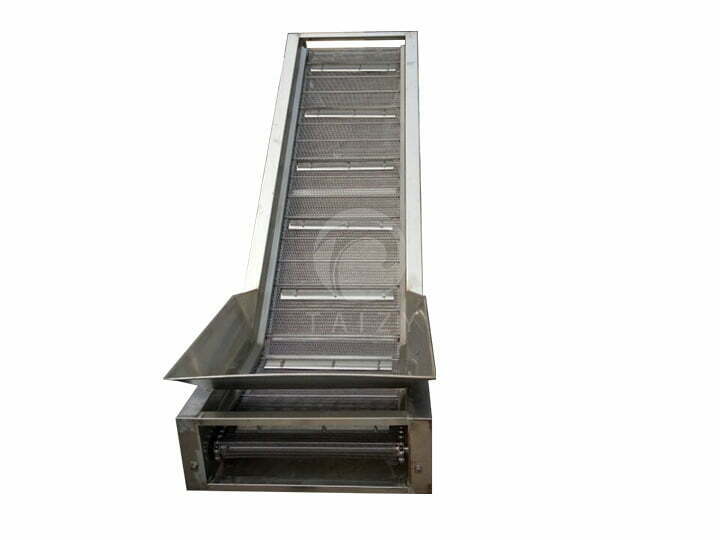 The purpose of the hoist is to convey the banana slices to the frying machine, and it really can save time and energy. You do not need to transport the slices manually.
Step four:Banana chips frying machine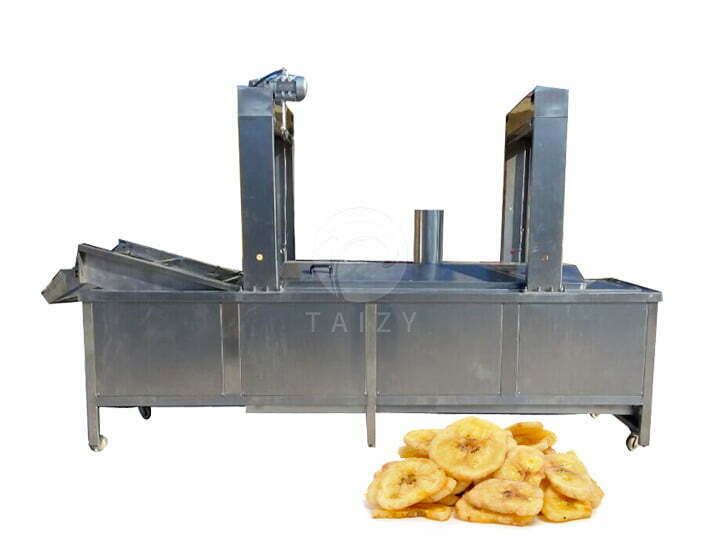 The banana slices drop into the fryer machine by the hoist. The frying time is set according to your need, and the frying temperature is around 180 
Step five:cooling and drying machine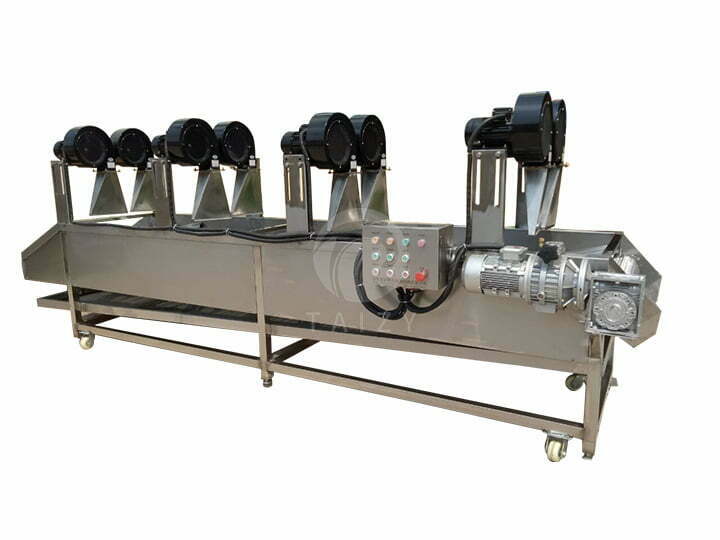 After frying, we should cool and fried banana slices by air cooling machine. There are 12 cooling fans on the machine, and they can cool banana slices evenly.
Step six:Elevator
Here we should use the elevator to lift the cooled banana slices to the leaching sugar machine.
Step seven: leaching sugar machine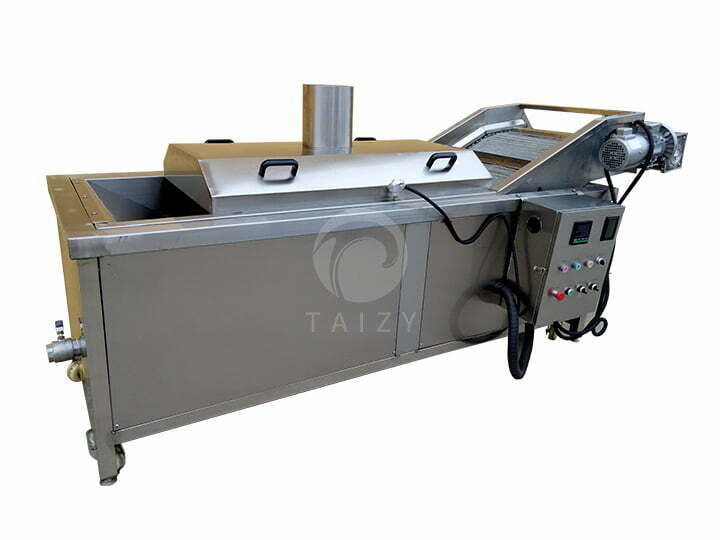 The leaching sugar machine is the same as the continuous frying machine, and its function is to mix the fried banana slices with different flavors of sugar. The taste of sugar depends on the customers, and you mix any sugar you want with the slices.
Step eight: Elevator
This elevator connects with leaching sugar machine and belt fryer machine.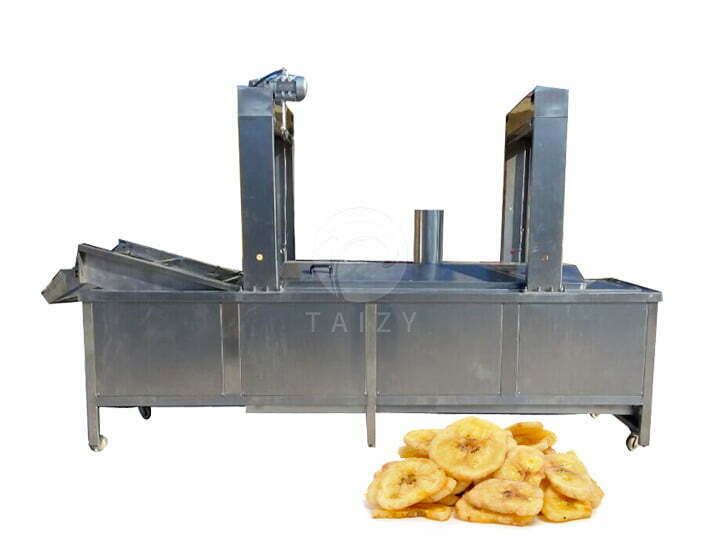 Why do the banana slices need to be fried twice? After mixing with sugar, the banana slices become softer than before. Thus, you need to fry them again for crisp taste.
Step ten:De-oiling machine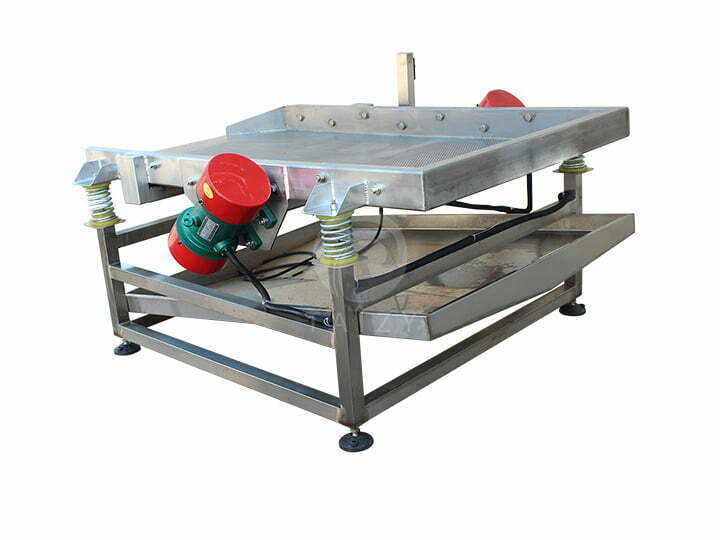 Different from the centrifugal de-oiling machine, this type of machine removes the oil by constant vibration. Finally, the oil on the surface of fried banana slices will be removed completely.
Step eleven: Hoist
This hoist is used to life the banana slices into seasoning machine.
Step twelve:Automatic seasoning machine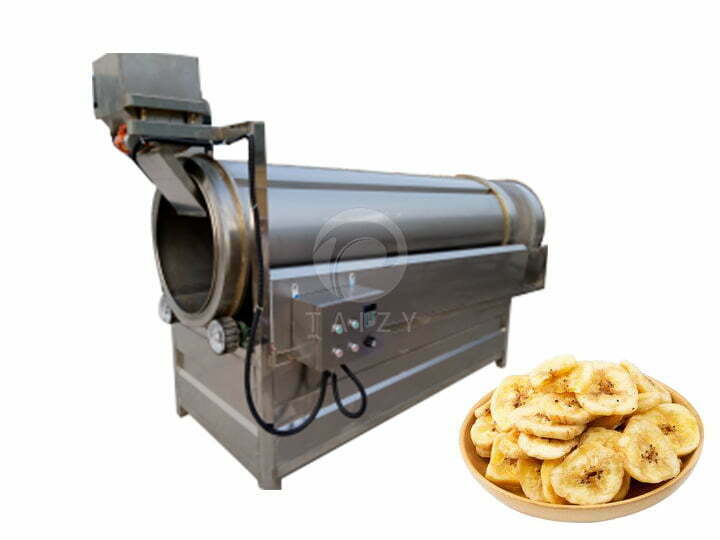 The drum type automatic seasoning machine is widely applied to mass production, and it can mix the seasoning with plantain chips evenly with high speed.
Step thirteen:Automatic packaging machine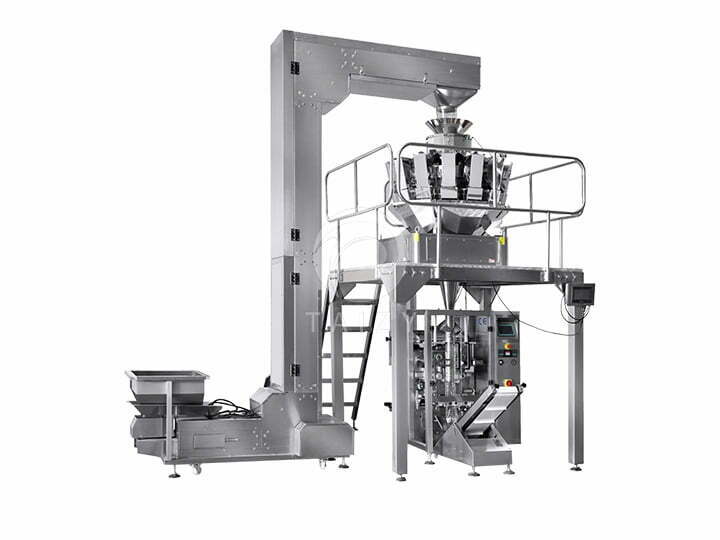 The last step is to pack the plantain chips into bags. Ten-bucket is very suitable for banana chips production line, since it can work continuously.
The advantage of fully-automatic banana chips production line
1.The whole banana chips production line is well designed on the basis of market demand.
2.Each machine can work with great speed, fulling improving the working efficiency.
3.The while plantain chips production line just needs 3-5 person, saving time and labor cost.
4.The banana chips processed by this line is equipped with high quality, and it really can bring you high profit.