The frozen french fries production line contains professionally designed french fries making machines to manufacture frozen french fries from raw potatoes. The fries production process mainly includes potato washing and peeling, french fries cutting, blanching, drying, frying, oil drying, freezing, and packaging. The French fries processing line features high efficiency, high-quality products, various outputs, cost-effectiveness, easy operation, etc. According to output, the french fry processing plants can be divided into the small semi-automatic french fries processing line and fully automatic french fry plant. The general output of the small-scale french fries production line is 50kg/h, 100kg/h, 200kg/h, 300kg/h. The output range of the fully automatic frozen french fries production line is 300kg/h-2t/h. As a French fries production line manufacturer, we offer whole sets of french fries making machines, as well as single machines, supporting equipment, and also provide customized machines to match customer needs. French fries processing plant is suitable for snack food factories, restaurants, hotels, food workshops, fast food stories, and so on.
Frozen French fries production line overview
Application: Mainly used to produce frozen french fries, potato chips, finger chips, french-fried potatoes
Output: French fries production line has semi-automatic and fully automatic production lines. The small scale french fry line's output is 50-300kg/h, and the output of the fully automatic line is 300-2000kg/h
Customized or not: yes
Heating method: electric heating, gas heating
Popular areas: Turkey, Germany, Italy, Algeria, Saudi Arabia, Iraq, and other places
Production process: Hoist-cleaning and peeling-selection-cutting potato strips-hoist-removing impurities-blanching-dehydration-frying-degreasing-freezing-packaging.
Frozen chips processing plant 3D version video
Semi-automatic frozen french fries production process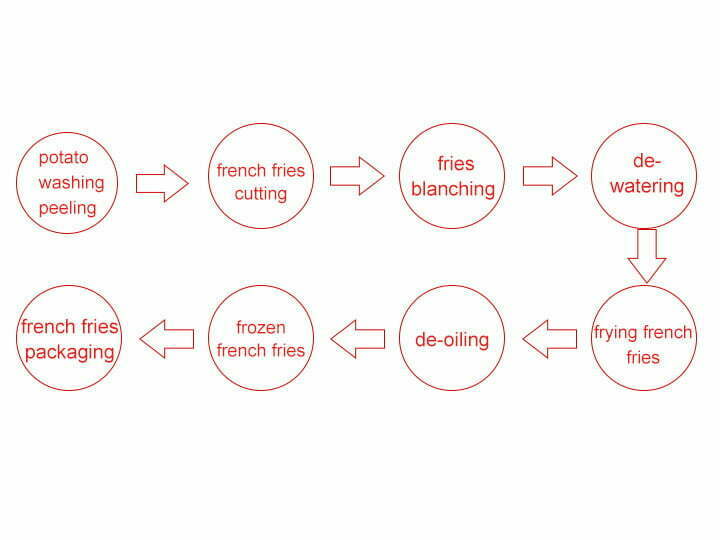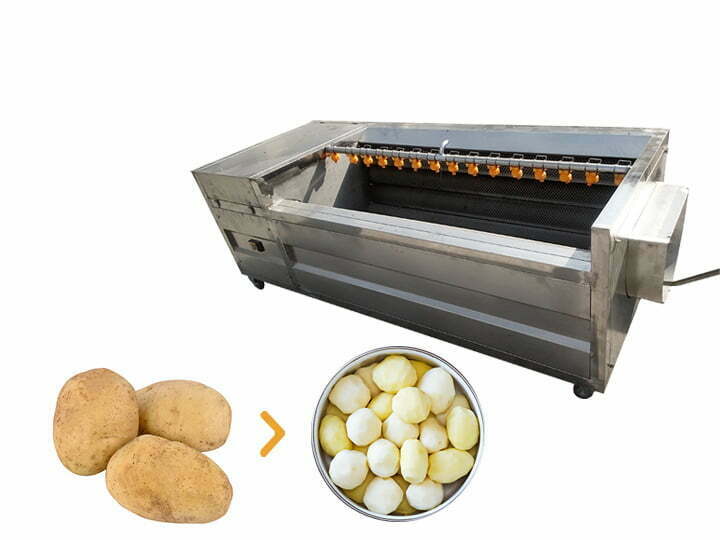 size:1600*850*800 mm
power:0.75kw
capacity:200kg/h
weight:280kg

The potato washing and peeling machine has washing and peeling functions.The brush rollers inside the machine can fully peel the potatoes, and they won't damage the potatoes. The washing time is around 5-6minutes.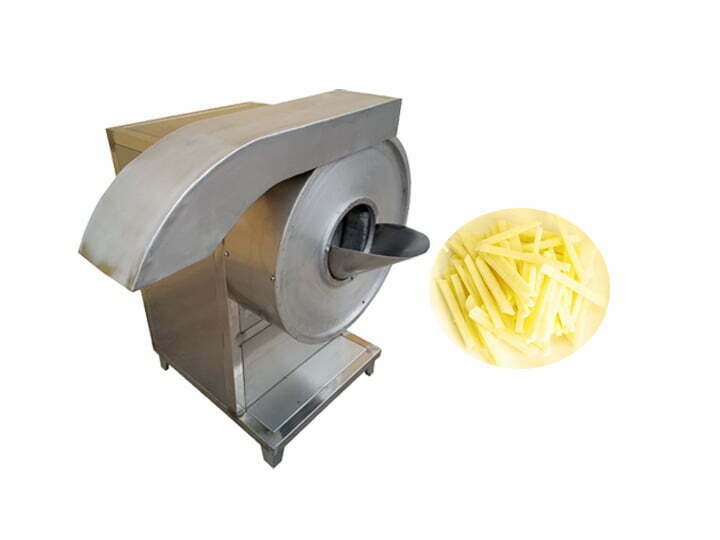 size:950*800*1600mm
cutting size:6*6mm to max 15*15mm(it can be customized)
power:1.1kw
capacity:600-800kg/h

This french fries cutter machine is to cut potatoes into strips. The potatoes firstly are cut into slices, and then cut into strips. The size of the potato strip is adjustable, which can be achieved by changing the gap between blades. Usually, most customers prefer the size of 8*8mm and 9*9mm, and its range is 6*6mm to max 15*15mm. By the way, the blades are vulnerable spare parts, I strongly recommend you to buy extra blades.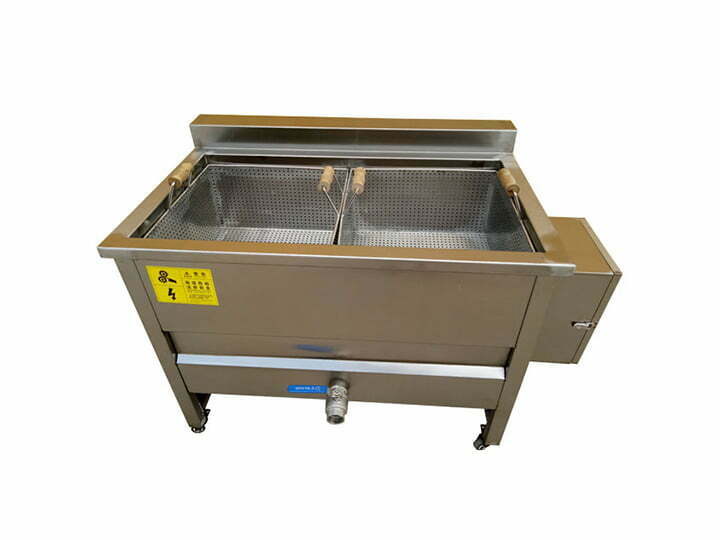 size:1200*700*950mm
power:12kw
weight:120kg
capacity:100 kg/h

The blanching machine is to remove the starch of the potato strips so that the final french fries bear bright color and better taste. The heating mode of it includes electric heating and gas heating, and you can choose anyone on the basis of your situation. The blanching temperature is 80-100℃. It has an automatic temperature control system, and the temperature is adjustable.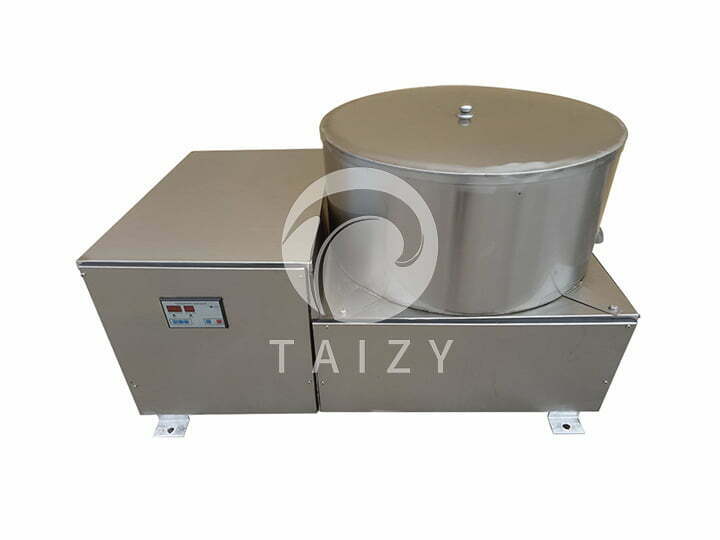 size:1100*500*850mm
power:1.5kw
weight:150kg
capacity:200kg/h

The de-watering machine can prevent the surface of the blanched fries from containing too much water and splashing. It uses the centrifugal principle for dehydration, and the dehydration time can be timed. Generally, the blanching time is 1 to 2 minutes. Besides, an air drying machine is often used in french fries production line, which can continously remove the water from the surface of potato strips with strong air.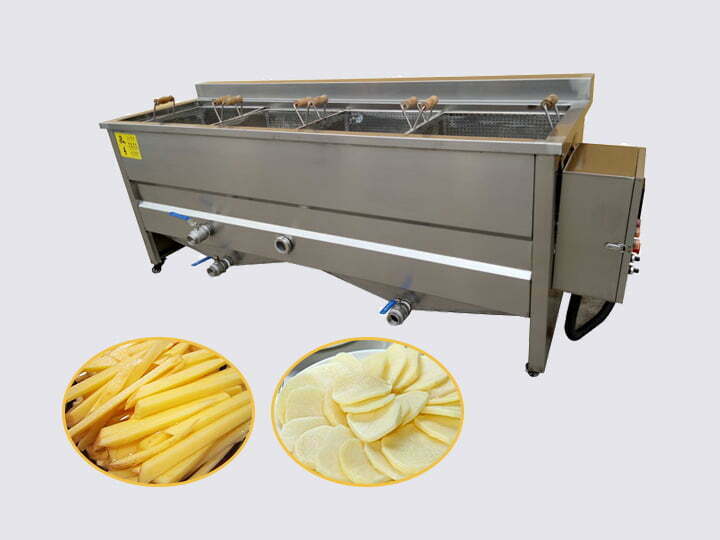 size:1200*700*950mm
power:24kw
weight:120kg
capacity:100 kg/h

The frying is an important step in the frozen french fries production line. The frying temperature of 160-180℃ and the potato strips need to fry for 40-60s. This french fries frying machine bears high quality compared with other machines in the market.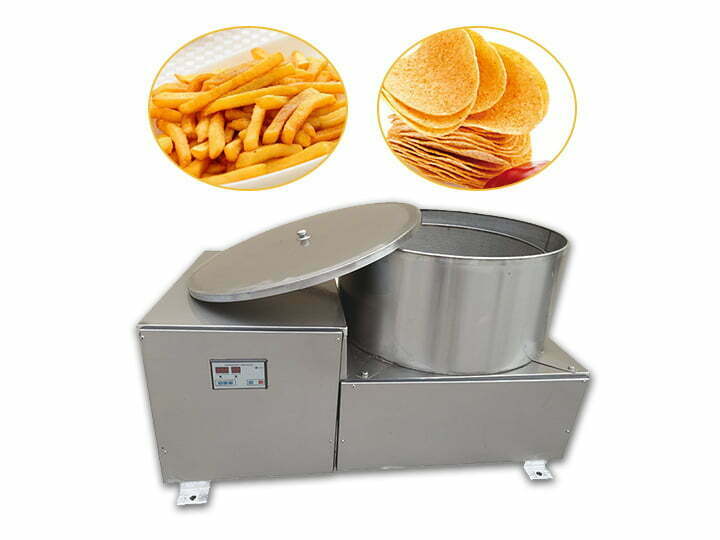 size:1100*500*850mm
power:1.5kw
weight:350kg
capacity:200kg/h

After frying, you should use a deoiling machine to remove the much oil on the surface of the fried potato strips. The deoiling machine is as same as dewatering machine.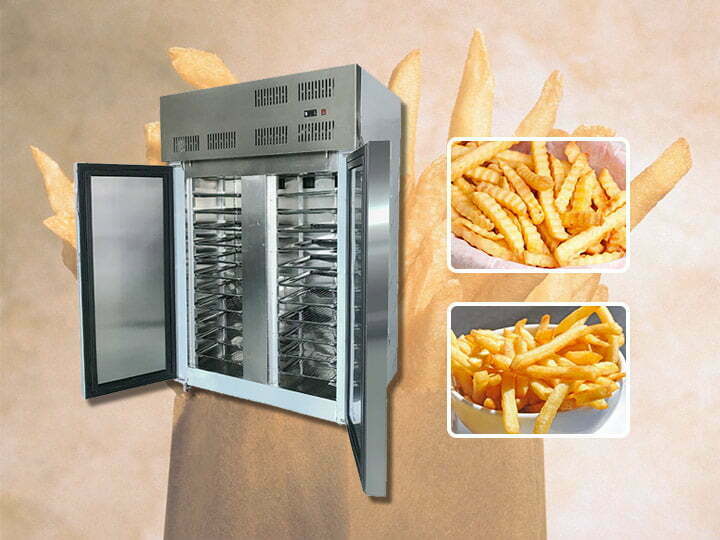 A quick freezer machine is to freeze the fried French fries so that they won't stick to each other when packing. The freezing time is 20-30minuts, and the minimum temperature is -45℃. The French fries we usually eat at McDonald's are fried again out of the freezer machine. The machine size can be customized according to requirements.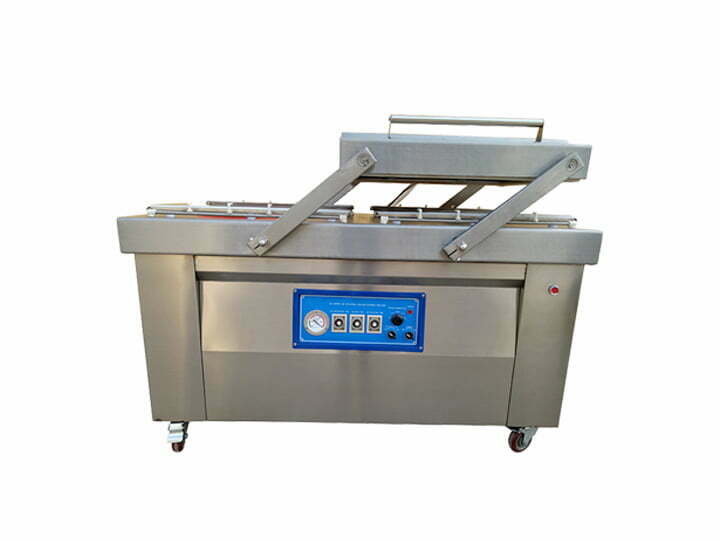 A french fries packaging machine is to pack various snacks, with the multiful functions of automatic weighing, packaging and sealing. We offer vacuum potato chips packaging machine and ten-bucket potato chips packing machine.
Semi automatic french-fried potatoes working video
Small scale french fry processing machines' features
Our small scale french fries production line has many outstanding features:
1. The potato cleaning machine in the small frozen French fries production line has two functions of cleaning and peeling. The brush roller inside the machine can completely peel the potatoes without damaging them. The washing time is about 5-6 minutes. In addition, it can also clean other fruits and vegetables such as ginger, dates,and carrots.
2. The French fries cutting machine in the semi-automatic French fries production line is made of imported components from Taiwan. Its cutting range is 6*6mm~15*15mm. Of course, we can customize multiple cutting size blades according to customer needs. By changing the blade, you can use one French fries cutter to make multiple sizes of French fries.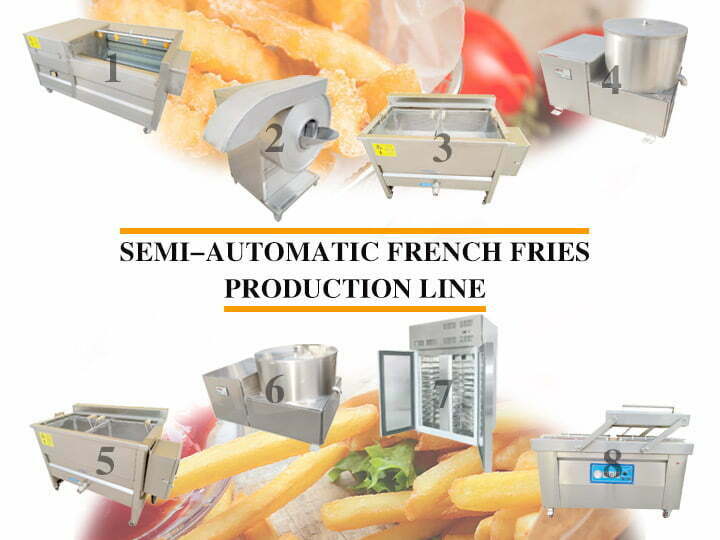 3. Both the blanching machine and frying machine in this production line have electric and gas heating methods. Their electric heating tubes are composed of seamless heating tubes, and their power is low. The use of seamless heating tubes can make the blanching machine and fryer have safe and efficient functions.
4. The freezer is the most important machine that distinguishes the French fries production line from the potato chip production line. The freezer can be equipped according to customer needs.
100kg/H Semi-Automatic Frozen French Fries Processing Machine
Fully automatic french fry plant flow chart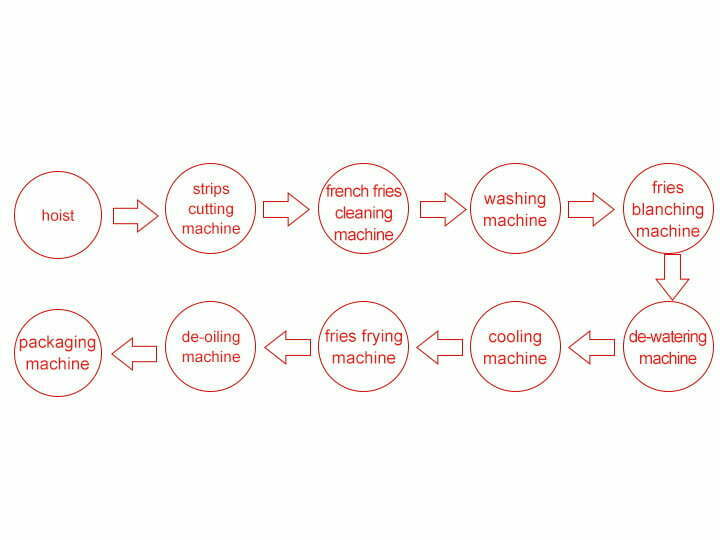 Compared with the semi-automatic frozen french fries production line, the automatic fries production line replaces the automatic fries machine. In addition, it also adds a fries picking machine and a washing machine before the blanching machine. And this is what distinguishes French fries production from potato chip production. It also can produce potato chips by adding or reducing individual machines on the basis of the french fries production line.
The machine required in fully automatic frozen french fries processing plant
Order Number
Items
Machine image
Technical data
1
Hoist
Power:0.75kw
Voltage:380v/220v
Dimension:18000*800*1650mm
2
Potato washing and peeling machine
Size: 1600*850*800 mm
Power: 5.5kw
Weight : 280kg
3
Picking conveyor
Voltage:380v/220v
Power:0.75kw
Dimension:1800*1000*860mm
4
French fries cutter machine
Size: 850*850*1000 mm
Power: 0.75kw
Cutting strip size: 3-8mm
5
Hoist
Power: 0.75kw
Voltage: 380v/220v
Dimension: 18000*800*1650mm
7
Blanching machine
Power: 2.95kw
Dimension: 2500*1100*1300mm
Weight: 300kg
9
Vibration water remover
Size: 2400*1100mm
Screen width:1000mm
Power: 0.25kw
10
Air dryer
Power:3.75kw
Voltage:220v/380v
Dimension:3300*950*1130mm
11
Hoist
Power: 0.75kw
Voltage: 380v/220v
Dimension: 18000*800*1650mm
12
Frying machine
Power:2.95kw
Dimension:2500*1100*1300mm
Weight:300kg
13
Oil tank
Size: 600*600*900
Power:1.5kw
14
Vibration oil remover
Size: 2400*1100mm
Screen width:1000mm
Power: 0.25kw

15
Air drying machine
Power:3.75kw
Voltage:220v 380v
Dimension:3300x950x1130mm
16
Hoist
Power: 0.75kw
Voltage: 380v/220v
Dimension: 18000*800*1650mm
17
French fries freezer
Length: 15000mm
Freezing center temperature: – 18 °
Material: 304SS
18
Packing machine
Maximum weight: 1000g
Single weighing range: 10-1000g
Weighing speed: 60 times/min
As shown in the table, there is a series of machines with typical parameters in the automatic frozen French fries production line. In contrast with a semi-automatic french fries processing plant, several hoists, conveyors, and a different type of drying machine and packaging machine are used to realize continuous production and reduce labor. The main machines and supporting equipment can be flexibly adjusted according to actual needs.
Fully automatic frozen french fries production line working video
Characteristics of automatic potato french fries line
In the full-automatic French fries production line, it adds many elevators to connect two automatic potato processing machines. Therefore, the automated French fries production line only needs one or two people to control the machine display screen to operate.
In order to thoroughly clean the impurities on the potato chips, the production line adds a washing machine for selecting the size of the finger chips. The picking machine can pick out the fit size french fries, and the smaller fries will fall off. This ensures the quality of the French fries. The machine is also the biggest sign that distinguishes the French fry plant and the chips line.
It adopts the vibrate de-water and de-oiling machine in the processing plant. Compare with the small fries line, it can convey fries to the next machine while achieving de-water and de-oiling function. And it can realize the function of automatic collection of water or oil.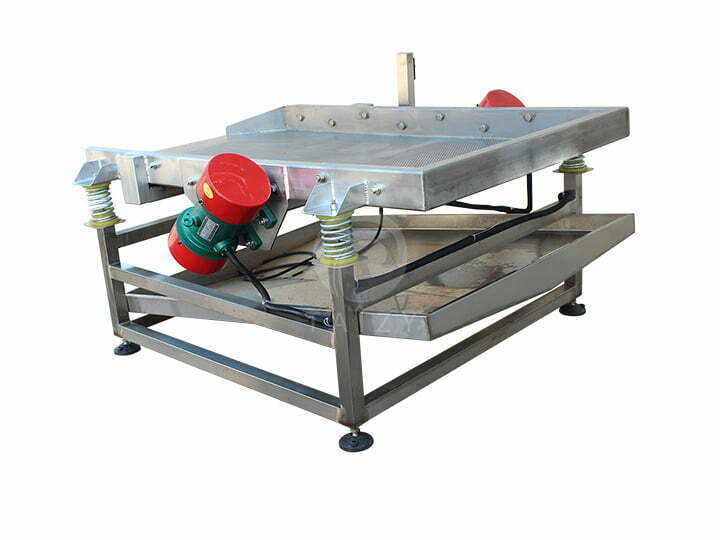 In the fully automatic frozen french fries production line, it uses a continuous blanching and french fries frying machine. The machine has the functions of automatic material transfer, controllable frying temperature and time, automatic cleaning of the bottom of the machine, and oil fume collection.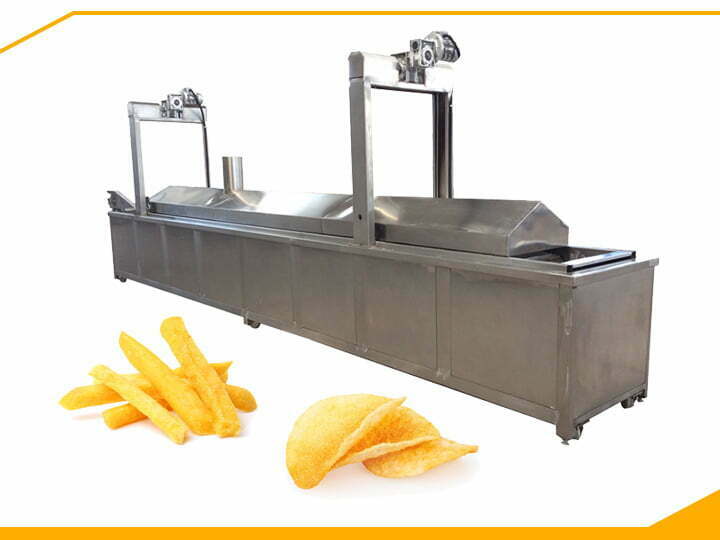 The size of the frozen fries freezer needs to be determined according to the customer's production output. In addition, we provide a variety of types of packaging machines, which can achieve large-volume, multi-batch, quantitative packaging. The customer needs to provide the size and weight of the packaging.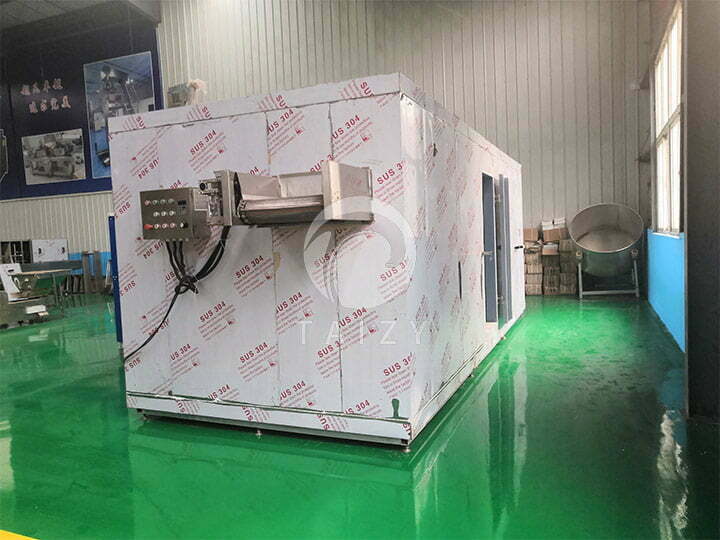 Precautions for developing frozen fries business
1. First of all, you should clearly know the final product you need to make and its size. The sizes of frozen French fries in different regions are not exactly the same. The most popular size of French fries is 3-7mm, but there are certain differences in the most popular size in various places.
2. Before starting the fries production business, you should conduct a detailed investigation of the local fries market to profit from the production of fries. For example, the varieties of potatoes and their prices, availability, etc.
3. You can choose the fries production line that suits your production situation according to your factory situation or budget. No matter what production line you choose, we can make a unique production plan for you according to your factory.
How to start a french fries business during a pandemic?
During the pandemic, the production and sales of many factories have been affected to a certain extent. However, some popular brands have managed to expand their business. It is helpful to know about effective strategies of start-up of french fries business during the pandemic to grow your business.
Specific sales cases
Fully automatic french fries production line running in Turkey
French fries machine in Australia
Egyptian customers visited our french fries production machine factory
The customer from Iraq bought 200kg/h fully automatic French fries production line